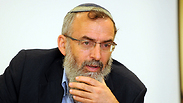 Rabbi David Stav. 'End of marriage and separating should be treated with respect and dignity'
Photo: Yossi Zeliger
With more than 200 in attendance from both the legal and rabbinic worlds, the Tzohar organization and the Israel Bar Association launched this week a new prenuptial agreement to protect and assist the future of Jewish marriage.

The agreement, spearheaded by the religious Zionist rabbinic organization, gives the soon to be married couple an extra sense of security in the event of divorce, working to limit the distress and pain suffered by the refusal of giving or receiving a religious divorce, a get.

Get Gang

Rabbi Mendel Epstein allegedly led a group of 'get enforcers' who used handcuffs, electric cattle prods to torture men into granting divorces.

The agreement meets the requirements of Israeli law and policy according to the legal courts as well as Jewish law and Halacha.

While other individuals and organizations have raised the issue, Tzohar is uniquely positioned to push it to widespread use and implementation. With a vast network of rabbis all over Israel and as one of the main facilitators of marriages in Israel, the organization says its reach and influence can change the perspective of newlyweds and help save families from the potential pain and devastation of chained marriages.

"No one deserves to stay chained in a terrible marriage with a knife at their throat," said Tzohar Chairman Rabbi David Stav. "This agreement can and should become the norm in Israeli society to ensure that the end of a marriage and separating from your partner be treated with respect and dignity."

"If this agreement was available to me a few years ago, my life's story would likely have been very different," said Dorit Stern, who was refused a religious divorce for six years. "A person who is in this situation is stuck – can't move on, can't get married, can't have children. The solution to this problem exists and I'm so glad that someone finally is standing up and working to do something about it."

"It took us six years and 16 versions to finalize it," said Rabbi Elisha Aviner. "We created an agreement where stage one is to try and save the marriage in the event that one of the parties wants to. Only after that process is explored is the decision to activate the terms of legally binding agreement decided upon. Our dream is that the agreement will never need to be used, but if it does, it should help provide for a fair process of separation."

"I wasn't sure if I should take part in this initiative, but after checking and seeing what it is all about, I saw that it was the best way to prevent the situation of agunot," said Jerusalem's Chief Rabbi Aryeh Stern. "This is something very important for the Jewish family."

"With the launch of this new historic agreement, we hope to make the lives of newlyweds better and more meaningful, so that if, God forbid, the marriage breaks up, it will be done in a fair and respectful manner," concluded Rabbi Rafi Feuerstein, one of the founders of Tzohar.