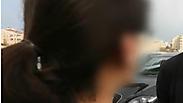 Illustration
Photo: Gil Yohanan
A rabbi who prosecutors say employed a kidnap team to force unwilling Jewish husbands to divorce their wives is set to stand trial.

Openings arguments are expected Wednesday in Rabbi Mendel Epstein's trial on charges of conspiracy to commit kidnapping and attempted kidnapping. Prosecutors allege that the Orthodox rabbi's team used brutal methods and tools, including handcuffs and electric cattle prods, to torture the men into granting divorces.

Related stories:

"If it can get a bull that weighs 5 tons to move, you put it in certain parts of his body and in one minute the guy will know," prosecutors said Epstein told two undercover FBI agents posing as a brother and sister trying to force the sister's husband to grant the ritual Jewish divorce known as a "get." Prosecutors say he was recorded telling the agents the effort would cost at least $50,000.

The kidnap team brought surgical blades, a screwdriver and rope to a staged kidnapping in 2013, according to the indictment. Epstein, who was indicted last May along with his son and three other Orthodox rabbis, told the undercover agents he arranged similar kidnappings every year or year and a half, the indictment said.

Several co-defendants have pleaded guilty in the case and others will go on trial with Epstein.

Defense lawyer Robert Stahl disputed the charges and called Epstein a "champion of women's rights." Epstein wrote the 1989 book "A Woman's Guide to the Get Process."

"I think that a lot of information will come out about the supposed victims, and the evidence will not be there that he was involved in certain incidents," Stahl said last week. "Much more will come to light once the trial gets under way."

Epstein is free on bail. No one answered the door last week at his two-story house in Lakewood, a community near the Jersey shore where more than 60,000 Orthodox Jews reside.