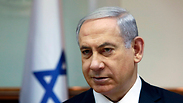 After adopting a nationalistic and binational policy, Netanyahu has mostly himself to blame
Photo: Reuters
If we would like to know why Prime Minister Benjamin Netanyahu is facing a decline in the polls, why he is turning from an asset into a burden, we should pay attention to a change which has taken place in Netanyahu himself.

It's not that the media support him, but it's his entire fault. On Sunday evening, Netanyahu didn't speak at a Likud rally, he spoke at a right-wing rally. A rally which conveyed a very clear, very nationalistic, very aggressive message: No withdrawal, no compromise, no Palestinian state.

Concessions Document

Op-ed: As long as Likud leader supports the creation of a Palestinian state, his party cannot be considered part of 'national camp.'

Something interesting happened in the past three months. In the final days of the Netanyahu-Lapid-Livni government, Netanyahu was in a high and strong position. He had an approval rating of 77% as prime minister. He felt like he was on the top of the world. He had good reasons for that. There has likely never been a prime minister with such a high approval rating. That was the moment he decided to fire Yair Lapid and Tzipi Livni from his government and move up the elections.

There is one thing Netanyahu refused to understand: He enjoyed a high approval rating because he had Lapid and Livni by his side. He succeeded in portraying himself as a restrained and moderate leader. That was the main message conveyed from Netanyahu's conduct in the battle against Hamas. That was the main message from the moderation he showed during the negotiation with US Secretary of State John Kerry. He positioned himself as a national leader, and mainly not radical. He was portrayed as a levelheaded and responsible leader.

The moment he decided to call elections, Netanyahu shifted to the right. Instead of a national leader, we got a nationalistic leader. His approval rating began dropping by tens of percentage points.

Interestingly, the final stage of the right's campaign erases the difference between Netanyahu and the Bayit Yehudi, Tkuma and Yachad parties. On Sunday evening, they all participated in the same rally. It was a rally against a compromise. A rally in favor of one big state. A rally in favor of a binational state. A rally which befits the margins of the right. A rally which places Israel in a defying stand not only against Europe, but also against the American administration and the majority of US Jews.

Many of the Likud's voters in the past decades know that it wasn't a rally befitting a ruling party. Netanyahu was there. They were hardly there.

This points to something much more interesting: Despite the screams of horror coming from large parts of the left and the media, the Israeli public is far from being radical. On the contrary. There are tens of percentage points in favor of a national policy, but they abandon Netanyahu when he adopts a nationalistic and binational policy.

Not only was this not a violent and racist election campaign, it was actually a quiet election campaign. It had too many spins, but at the end of the day they didn't work. Even if there were exaggerations and a smear campaign against Netanyahu, his decline is mostly his fault. People want him as a national leader, not as a Milošević lookalike.

Despite the strong shift to the right, it's possible that the bloc represented by Netanyahu will succeed, barely, in creating a rightist-haredi government. That will be a dream come true for all of Israel's haters. They want to portray Israel as a nationalistic-haredi state. They are waging a huge global campaign to deny Israel's right to exist. A Netanyahu-Bennett-Marzel government will give them exactly what they want.

Netanyahu, I must admit, has some good arguments too. In the past six years, he wasn't the demon portrayed in a significant part of the publications against him. But he is the one who decided to shift to the right. He is the one who announced that he would join and give in to the haredim. He is the one who implied, and more than implied, that he is against any compromise.

It wasn't a propaganda campaign funded by foreign elements which fabricated his participation in the nationalistic right's rally on Sunday evening. It was his decision. He has mostly himself to blame.