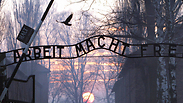 Auschwitz. Historians have no doubt document is authentic
Photo: AFP
Historians at the Auschwitz memorial and high school officials in central Poland are trying to determine how a list of 15 Polish and Jewish inmates of the Nazi death camp made it into a school library book.

A typewritten page, stained, with edges burnt was found last month inside a 1923 Polish book on the history of warfare, during a library stock-taking at the 2nd Lyceum in Lodz, some 200 kilometers (120 miles) from the former camp.

Never Forget

About 2,000 people, including 200 supporters of country's new radical left ruling party, join together at Thessaloniki's Freedom Square for 72nd anniversary of roundup and transport of nearly 50,000 Jews to Nazi death camps.

"We have no idea how or when it came to be in this book," school director Jadwiga Ochocka told The Associated Press.

Auschwitz museum spokesman Pawel Sawicki told the AP on Wednesday that historians have no doubt it is authentic, but will still submit it to tests to confirm that.

Sawicki said the find is the more precious for the fact that the Nazis burned most of Auschwitz archives when they were readying to evacuate the camp in January 1945.

"The burn marks suggest it was there to the end and was planned for burning," Sawicki said.

Dated May 21, 1941 it bears the names of inmates brought to Auschwitz that day from Lodz, Poznan and Katowice. The same names are on a longer list, of 28 inmates brought in that day, which is held in the museum's archives.

According to historians, eight of the inmates on the list died in Auschwitz. Two Poles – Czeslaw Fratczak and Boleslaw Kita – survived the war but have since died.

The fate of five, including a Polish Jew and a German, remains unknown. They are Adalbert (Wojciech) Goldberg from Poznan, inmate number 15621; Kurt Mueller from Poznan, number 15620; Marian Kobiak from Poznan, number 15619; Jan Mironski from Lodz, number 15632; and Zygmunt Domagala from Lodz, number 15637.