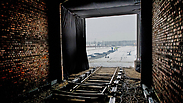 Site of former Nazi death camp of Auschwitz
Photo: MCT
The Auschwitz-Birkenau Memorial Museum has launched online lessons to prepare would-be visitors to the memorial site, many of whom today know almost nothing about World War II or Nazism.

The site of the former Nazi death camp has seen the number of visitors rise for years, reaching a record 1.5 million last year, mostly young people, says Andrzej Kacorzyk, director of the International Center for Education about Auschwitz and the Holocaust.

70 Years On

It has been a long road from concentration camp's liberation by Soviet Red Army on January 27, 1945 to its integral place in history today.

But at the same time museum officials say visitors increasingly know less and less about the war or what happened at Auschwitz, where more than one million people, mainly Jews, were murdered.

According to Kacorzyk, "Many groups visit here upon prior preparation in schools. However, it is clear that amongst them are persons with little knowledge of the origins of Nazism, topics related to World War II, or the events that took place in Auschwitz."

"Auschwitz – Memorial Site" is a new online lesson of the Museum, whose main task is to prepare for the visit.

"While visiting the authentic historic site, visitors will learn the details of the camp history. We have been striving for several years to direct our activities among others, to teachers so that pupils, in particular, are well prepared for the visit to the Memorial site," Kacorzyk added.

"Besides the recommended assistance in preparing for the visit and its conclusion posted on our website, we now provide online lessons on history, which may be helpful in understanding the situation in Europe before and during the Second World War."

The online lessons are in English and Polish.