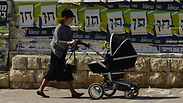 Beit Shemesh (archives)
Photo: Yuval Chen
Two ultra-Orthodox newspapers in Beit Shemesh refused last week to publish an ad for a sock shop showing the feet of a two-year-old girl.

While business owners in the city are used to having pictures of women or young girls censored, the latest decision of the newspapers' ad supervisor was seen as excessive radicalization.

Growing Radicalization

After targeting women's pictures, radical haredi groups in Beit Shemesh take on written word as well.

"I've decided not to give in and not to publish any ads in the two newspapers which insisted that we remove the picture," said the sock shop's owner, Henny Spiegler.

Spiegler opened the LiLi sock shop four years ago and has occasionally been publishing ads in Beit Shemesh's local newspapers without pictures. Ahead of Passover, she decided to include a picture of a small girl's feet with white socks.

But Spiegler did not know that the newspapers now have a new ad supervisor and are working under a strict set of rules initiated by a radical haredi group, which ban pictures of young girls.

Spiegler, an ultra-Orthodox woman herself who targets haredi audiences, made sure that the picture would not show anything which contradicts her views and could harm the store's sales. She was surprised to learn that the new inspector had taken Jewish Law one step forward.

"I tried to send the ad to a different haredi paper, but he banned it there too," she says. Nonetheless, she refused to change the ad and published it in other local newspapers which are not distributed in all the city's haredi neighborhoods. "There is no halachic problem with the ad, and I have no intention of being their puppet," she states.

Members of haredi WhatsApp groups have also expressed their anger over the strict censorship. "The supervisor of Beit Shemesh's local newspaper is hanging on to a two-year-old girl's pantyhose, claiming that the ad doesn't meet the criteria and could fail readers," one person wrote. "Please share this to make the public aware of the deterioration of Beit Shemesh's newspapers."

"I have nothing to do with it and I don't know who wrote it," Spiegler denies with a smile. "But the radicals from Beit Shemesh think they can run our lives, and I won't be part of it."