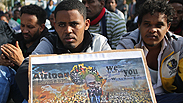 Asylum seekers in Tel Aviv
Photo: Yaron Brener
They're human beings after all; and whether they be migrant workers or refugees, their dignity must be preserved. It's a Jewish, Zionist, humanistic and universal decree.
But it's not that simple: Tens of thousands of illegals concentrated in certain neighborhoods, primarily in south Tel Aviv, are a major blow to residents of those neighborhoods. And they are human beings too.
The dilemma between preserving human dignity and the desire to repatriate, including by coercion, exists in other countries, and not only in Israel. And there are no easy solutions – not in Israel, and not in Britain either.
Thousands of Eritrean asylum seekers in the UK won't be loaded onto airplanes and sent home next week; but publication of a Home Office report on the situation in Eritrea, along with the recommendation not to afford refugee status to Eritrean asylum seekers, is an indication of changes afoot.
Asylum Seekers in Israel
Africans refusing to take part in 'willing departure' program will face a hearing; 'This move will encourage infiltrators to leave the borders of Israel in a safe and dignified manner,' says Interior Minister Erdan.
The world is struggling to cope with the waves of immigration. The conflicts in the Muslim world have only made things worse, creating millions of refugees. Syria is currently the main source of illegal immigration to Europe. Eritrea is in second place. Unlike Syria, however, Eritrea is a functioning country.
According to Danish estimates, just 10 percent of the Eritrean asylum seekers are indeed dissidents – and they are the reason why there is no forced repatriation. And in Israel? At Kibbutz Kinneret in December 2013, the Eritrean ambassador to Israel addressed a gathering of 500 citizens of his country who are loyal to the regime there.
Around 50 Eritrean dissidents also showed up, and the gathering ended in a brawl. Thus, the situation in Israel may be similar to that in Europe – that 90 percent are migrant workers who face no threat to their lives in their own country.
Yonatan Jakubowicz, director of public relations at the Israeli Immigration Policy Center, claims that the recent reports prove that human rights groups continue to mislead the public and that we are dealing with economic migration, the principal beneficiary of which is Eritrea itself, which exacts a tax of 2 percent from the wages of Eritreans working abroad. This serves as a significant source of income for the state.
Human rights groups, on the other hand, say the British report is based on the Danish one, and is contradicted by others. It should be noted, however, that the Danish policy led to a 90 percent drop in the number of asylum seekers from Eritrea. If that was their goal, they certainly achieved it.
Asylum seekers have also returned to Eritrea from Israel. I spoke to one of them some two years ago. He wasn't thrown into prison and said he had no problems there. But one case, or even 10, can't guarantee that nothing bad will happen to anyone who is repatriated.
So the fog can be dissipated in a different way, suggested originally by Meir Sheetrit: The illegal immigrants, and not just those from Eritrea, should be allowed to live and work in dignity and without fear, and their wages should be heavily taxed. This tax will go into a fund they can later access the day they leave the country.
Such an arrangement would achieve two objectives: It would encourage voluntary repatriation and also preserve human dignity.