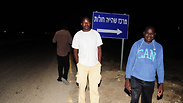 African asylum seekers at Holot
Photo: Herzl Yosef
The Interior Ministry will start offering African migrants to "willingly" leave Israel to a third country starting this week, the ministry announced Tuesday.

Interior Minister Gilad Erdan formulated a plan to increase the "willing departures" of migrants and asylum seekers to a different country - something which has so far only been initiated by the migrants themselves.

Starting this week, the Interior Ministry will take the initiative to offer the African migrants interned at the Holot detention facility in the Negev to leave to a third country destination.




The Interior Ministry's announcement noted that Minister Erdan was working to make the completion of the process of "willing departure" of African migrants from Israel to their own countries or to different countries part of the government's basic guidelines.

Related stories:

Israel reached an agreement with two African countries willing to take in migrants who had illegally entered Israel and cannot be returned to their country of origin. Since the beginning of 2014, some 1,500 African migrants or asylum seekers left Israel to a third country, in addition to 7,000 who were returned to their country of origin.

Erdan's plan to expand "willing departures" has been approved by the Attorney General and is expected to begin in the coming days.

Erdan instructed representatives of the Border Crossings, Population and Immigration Administration at the Holot facility to locate the first group of African migrants who do not have any asylum requests pending and are eligible to leave to a third country, and offer them to take part in the aforementioned program.

The migrant will receive all of the information on the process of leaving Israel, including the country he or she are going to and the process of absorption in the new country. Funding and organizing the migrants' departure - including plane tickets, hotels and an "exit grant" - will fall under Israel's responsibility.

The African migrant offered to partake in the program will have 30 days to arrange his or her departure. A migrant who is unwilling to leave will face a hearing, where it will be decided whether to move him to another detention facility as someone who fails to cooperate in his expulsion, according to article 13 of the Citizenship and Entry into Israel Law.

"This move will encourage infiltrators to leave the borders of Israel in a safe and dignified manner, and will serve as an effective tool to fulfill our duty to the citizens of Israel - and south Tel Aviv in particular - to restore the fabric of life they were accustomed to," Erdan said.