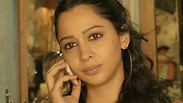 Palestinian film 'Degrade'
New Palestinian film criticizes Hamas
Brothers Tarzan and Arab Abu Nasser's first feature film, 'Degrade,' which is being screened at Cannes Festival, takes a critical look at Islamic organization's conduct on streets of Gaza through local women's eyes. 'We need women in order to bring about change in Gaza,' filmmakers say.
CANNES – A Palestinian film against Hamas is quite unimaginable, but this year's Cannes Film Festival includes such a movie, which strongly criticizes the current existence in Gaza – between the Israeli military oppression and the wild and incontrollable violence on the streets.

"Degrade" is the first feature film of twin brothers Ahmed and Mohamed Abu Nasser, known as filmmakers Tarzan and Arab Abu Nasser, and it is being screened as part of the International Critics' Week, the oldest parallel competitive section of the Cannes Film Festival.

More from Cannes

Israeli-born American actress says her directorial debut, adapted from an autobiographical novel by Amos Oz, focuses more on the story of a particular family than the historical backdrop it takes place in.

The audience's presence in the film's first three screenings Sunday evening was impressive, and the audience seemed intrigued and satisfied. The Abu Nasser brothers can also hope to win some prizes. The Critics' Week jury this year is headed by Israeli actress Ronit Elkabetz, who is famous for her political views and feminist approach – and, surprisingly, that's the exact approach the Palestinian brothers are promoting in their film.

It's a small film which takes place in one location – a beauty parlor in Gaza, which is visited by women of different ages from different sectors. It's a "small and colorful piece of heaven," where a future bride sits alongside a cynical divorcee, a young pregnant woman, a religious woman covered from head to toe, the beauty parlor's owner who came from Russia, a rebellious hairdresser and an elderly bitter woman played by Nazareth-born Palestinian actress Hiam Abbass. The film's cast also includes actresses Maisa Abd Elhadi and Manal Awad.

Together they create an emotionally charged microcosm which is discharged in conversations about politics, religion and of course men, as opposed to the men who discharge their differences of opinion by firing their Kalashnikov rifles on the street.

This difference between the sexes is emphasized when the hairdresser's lover, the son of a local clan, steals a lion from the infamous Gaza zoo, an act seen by the local Hamas leaders as a spit in the face. They launch a war against him and his family, turning the street into a very dangerous and noisy place.

The Abu Nasser brothers say the film is based on a true story. "There was a powerful family that had a lion from the zoo, and the government attacked this family to take it," Tarzan explained in an interview. "When Hamas came to power in 2006, they looked to take out all of the various clans to assert their control, looking for reasons each time."

"They killed like 15 members of the family," Arab added.

The viewers experience all these events from within the beauty parlor, where the women are asked to stay until danger is past. But the danger doesn't pass for hours, and with the gunfire and blast sounds outside, the women share intimate moments inside, in which they discuss their love stories, their approach towards life, secularism versus religiousness and Gaza's deterioration. Granted, Israel is often mentioned in a negative context, but the discussion focuses on the Hamas government and the Palestinian society which is being torn under its rule.

"Women in Gaza are like all other women in the world, although their suffering is very unique," the 26-year-old brothers said in an interview to the local media. "We need women in order to bring about change in Gaza. They are our heroes because despite the ongoing war, they represent life.

"The movie includes battles outside the beauty salon, but inside they continue with their love stories. They want to remain beautiful, hoping for a date or marriage. While people are shooting at each other on the street, putting on lipstick becomes an act of protest: Holding on to humanity no matter the circumstances, keeping hope alive."

While the film's characters mostly discuss their personal life, their distress is clear and so is the harsh criticism directed at Hamas and the street gangs. "All they bring is violence. They don't let us live peacefully," the women charge, pointing an accusing finger at the religious woman, who declares: "Just because I look like this doesn't mean I voted for them."

For a moment, one can imagine a similar discussion in the Israeli society, which is torn between right and left, religious and secular Jews.

Another film which deals with the Palestinian society's problems from a feminine perspective is Suha Arraf's "Villa Touma," which angered the Israeli establishment although Israel is hardly mentioned in it. It will be interesting to see whether we are witnessing a developing wave of new Palestinian cinema with a gender distinction between men and women, and between the Palestinian and Israeli existence.

In "Degrade," Israel is mentioned in the discussion, but only as a background story. When the women toy with the idea of establishing their own government, one of them is crowned as "the minister for Israel affairs." The Abu Nasser brothers explain that following Operation Protective Edge, which took place during the filming, they considered changing the story and giving it an anti-Israeli focus.

"The Israeli army killed thousands of citizens within three weeks, and at a certain stage we asked ourselves whether we should continue with our topic, which is conflicts within the Palestinian society, while our people are being slaughtered," the brothers said.

"We eventually decided to stay with our topic because it touches on life itself, and that was important to us. The killing is covered by other media outlets, which have no interest in people's daily life. We focused on the Palestinian society's internal conflicts and renounced anything anyone would expect from us as Palestinian filmmakers."

In their daily life too, the Abu Nasser brothers are considered quite eccentric in Gaza, like hipsters with long beards and All Star shoes smuggled from Egypt. In order to continue making independent films, they established the Made in Palestine project, and "Degrade" was produced as a Palestinian-French-Qatari co-production.

And what about Hamas? The brothers will likely settle for the Islamic organization not getting back at them over their critical film. That appears to be more than enough in the current reality in Gaza.