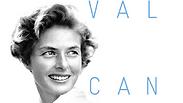 The 68th Festival de Cannes pays tribute to Ingrid Bergman with this year's poster
Israeli short film accepted into 2015 Cannes Festival
Director Miki Polonski's 'Asara Rehovot Mea Etsim' selected for prestigious film festival's Cinéfondation Competition; filmmaker Ronit Elkabetz to serve as president of Critics Week competitive section. Festival will also include special screening of Natalie Portman's directorial feature film debut which was shot in Jerusalem.
The Israeli delegation to the 68th annual Cannes Film Festival is growing. Director Miki Polonski's short film, "Asara Rehovot Mea Etsim" ("10 Streets, 100 Trees") has been accepted into the prestigious festival's Cinéfondation (student film) Competition.

Eighteen films from 16 countries have been selected for the competition to mark Cinéfondation's 18th anniversary. The films were chosen out of 1,600 submissions from around the world.

Pleasant Surprise

'Zero Motivation,' a comedy-drama about a unit of female IDF soldiers at a remote desert base, screened three times at Istanbul International Film Festival, cracking up local audience.

In addition, Israeli actress and director Ronit Elkabetz will serve as president of Cannes' Critics Week, the festival's oldest parallel competitive section which showcases first and second feature films by directors from all over the world. Elkabetz's latest film, "Gett, The Trial of Viviane Amsalem," was nominated for a foreign-language Golden Globe.

The Cannes festival, the most important film event in the world, will run from May 13 to May 24. It will include a special screening of Natalie Portman's directorial feature film debut, "A Tale of Love and Darkness," based on an autobiographical novel by Israeli author Amos Oz, which was filmed in Jerusalem.

World cinema heavyweights, including China's Jia Zhangke, Italy's Paolo Sorrentino and the United States' Gus Van Sant, will compete for prizes. Festival director Thierry Fremaux announced 17 films in the festival's Official Selection on Thursday. They include Jia's "Mountains May Depart," Sorrentino's "Youth" – a film about age starring Michael Caine – and Van Sant's "The Sea of Trees."

Also in the lineup are films by Italy's Nanni Moretti, France's Jacques Audiard, Taiwanese director Hou Hsiao-Hsien and American Todd Haynes. Winners will be chosen by a jury led by Joel and Ethan Coen.

Films screening out-of-competition at the festival include George Miller's "Mad Max: Fury Road," Woody Allen's "Irrational Man" and Asif Kapadia's documentary about the late singer Amy Winehouse.

The Associated Press contributed to this report.