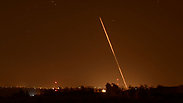 Rocket fired from Gaza into Israel (archives)
Photo: Avi Roccah
Rocket fire challenging Israeli and Hamas leaderships
Analysis: The Grad rocket fired into Israel on Tuesday night may have been a message from Hamas' military wing to the organization's political leadership, but it was also a reminder that Israel's new government must adopt a strategy against the occasional rocket fire as soon as possible.
The rocket which exploded in the Gan Yavne area on Tuesday evening was fired from the central Gaza Strip, according to radar locations and the other sensors of the intelligence collection system. This means that it was likely a Grad rocket or maybe even a heavier rocket, the kind of rockets Hamas and the Islamic Jihad have.

We are likely talking about a 122-milimeter rocket of the Grad model or a self-produced rocket with a similar range. A rocket of this kind, with a range of more than 10 kilometers, can be fired by Hamas' military wing, which possesses such rockets and even produces them.

Code Red

Matan Tzuri, Yoav Zitun, Itay Blumenthal, Elior Levy, Moran Azulay

Code Red siren sounds in Ashdod and the Lachish area near Kiryat Gat, followed by one medium-range rocket that fell inside Israel; Ya'alon: We hold Hamas responsible for everything that happens in the Strip.

The military wing is known to have serious differences of opinion with Hamas' political leadership. Mohammed Deif, who leads the military wing, and his deputy Marwan Issa believe that the organization must adopt a much more militant policy than the one implemented by Ismail Haniyeh and Mahmoud al-Zahar, who lead Hamas' political leadership in the Strip.

The political leadership believes that a conflict with Israel at this time could be disastrous for the Strip and for its residents, while Hamas' military leadership believes the organization must adopt a firmer and more threatening policy towards Israel. It's possible, therefore, that the rocket was fired in order to challenge Hamas' political leadership, which is urging restraint.

But this is just one possibility. A second possibility is that the rocket was fired by Islamic Jihad members who are supported by Iran. There are differences of opinion within the Islamic Jihad as well in regards to the policy that should be adopted vis-à-vis Israel and on other issues. The fact that the organization is loyal to Iran, and that it is supported by Tehran with funds and weapons, does not lessen the extent of the internal disputes between the organization's factions.

In recent days there have also been conflicts between different armed groups within the organization, and it's possible that one of them is trying to challenge the organization's leadership, which – like Hamas – is also part of the unwritten agreement for a ceasefire with Israel following Operation Protective Edge.

A third possibility is that the rocket was fired by Salafi jihadist organizations that are in a struggle with Hamas and many of their members have been arrested by Hamas. Recently, Hamas has carried out many preventive measures among these organizations' members, as they are challenging Hamas and its rule.
Hamas fire will lead to a harsh response
At the moment, it's still unclear who fired the rocket. If it turns out that it was fired by members of Hamas' military wing, the Izz al-Din al-Qassam Brigades, who include quite a lot of extremists, Israel's response will likely be harsh and serious and will be shaped in a discussion involving the defense minister and IDF chief of staff.
If it was fired by Islamic Jihad members, members of a rebellious faction or members of Salafi or jihadist organization, the response will not be as serious, but will make it clear to Hamas that Israel views the organization as responsible for maintaining the peace and calm, although they were not officially declared at the end of Operation Protective Edge.
It sounds complicated, but when "rebellious organizations" or "rebellious factions" fired into Israel in previous incidents after Operation Protective Edge, Hamas rushed to make it clear to Israel that it did not fire the rockets and that it was taking measures to stop the rocket launchers and prevent such incidents from repeating themselves in the future.
It's very possible that a similar process is taking place now, and it should be noted that when Hamas announces that it didn't fire and that it has taken measures against the rocket launchers, it usually stands by its word. When additional details become clear, it will be possible to estimate what happened.
Naturally, this analysis does not provide an answer to the most important strategic question: How long will Israel be prepared to tolerate a drizzle of a rocket here and a rocket there without making a fundamental strategic move to stop the rocket fire, assuming the new Israeli government has or will have such a strategy soon.