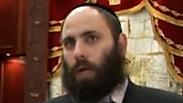 Rabbi Margolin. 'German public is unaware of upward trend of anti-Semitic attacks'
Photo: Eli Mandelbaum
39% of Germans say EU doing enough against anti-Semitism
Survey commissioned by European Jewish Association finds 15% of Germans believe there is a need to reduce activity to eradicate anti-Semitism across continent; EJA director slams 'educational failure in implementing the lessons of the Holocaust.'
Only a quarter of the German population believes that the European Union should intensify the measures taken to eradicate anti-Semitism across the continent, according to the results of a newly-released survey.

Thirty-nine percent of Germans believe that the current measures taken against Anti-Semitism today are sufficient, and 15% of Germans also believe that there is a need to reduce the activity on the subject.

Lasting Damage

Researchers say that those schooled during Nazi period are far more likely to be anti-Semitic, even though decades have passed.

The survey was commissioned by the European Jewish Association (EJA) in order to monitor changes in European public opinion toward the Jewish community and Israel.

EJA General Director Rabbi Menachem Margolin, who initiated the survey, stated that "the fact that about 40% of the German public does not see a need to engage in anti-Semitic activity is an expression of educational failure in implementing the lessons of the Holocaust."

The overall findings, he added, sadly indicate that "the German public is not aware of the upward trend of anti-Semitic attacks."

The survey, which was conducted earlier this month by the European Research Institute YouGov from a representative sample of the adult population in Germany, also found that the German public ranks the problem of anti-Semitism only in ninth place out of 10 challenges that European society needs to address.

Only 8% of Germans view anti-Semitism as a problem while a double figure of 15% point at anti-Muslim bigotry as a problem that needs to dealt with. Immigration was ranked first (53%), followed by the environment (44%) and terrorism (42%), according to the survey's findings.

All figures, unless otherwise stated, are from YouGov Plc. The total sample size was 1991 adults. Fieldwork was undertaken on June 16-18 2015. The survey was carried out online. The figures have been weighted and are representative of all German adults (aged 18+).