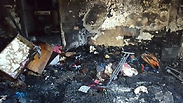 Arson which killed Palestinian baby. Not just another 'price tag' operation
Photo: Zacharia Sadeh
A new, extremely dangerous kind of Jewish fanaticism
Analysis: The Shin Bet has been dealing in the past year with a radical group of young messianic Jews aiming to bring down the Zionist state and replace it with a holy kingdom. In order to fulfill their goal, they are willing to sacrifice their lives and have no problem killing.
What happened in the village of Duma wasn't just another "price tag" operation of the ugly kind with which we have become familiar, which aims to take revenge against Arabs or deter the authorities from evacuating communities.

It turns out that in the past year, the Shin Bet – especially its Jewish Division – has been dealing with a new kind of cancer, violent and repulsive, which has surpassed its predecessor. We are talking about a group of young Jews which has adopted an ideological, anti-Zionist, fanatic and anarchistic common denominator, seeking to destroy the "state of the Zionists" (that's their terminology) and establish a holy kingdom instead of it. The Shin Bet sees them as a terror organization for all intents and purposes, which is violently undermining the foundations of the Israeli society.

Brave Decision

Op-ed: Israel must turn every stone, catch the people who burned Palestinian baby Ali Dawabsheh alive, prosecute them and destroy their homes. Unless our side makes a real move after they are caught, there will be fire.

The murder in Duma characterizes the group's ideological and operational perception. It wasn't an act of revenge but one aimed at igniting a conflict between the people, setting the region on fire and bringing down the Zionist regime which is "delaying salvation." In order to fulfill their goal, the group members are willing to sacrifice their lives and have no problem killing. It's a small group which carries out particularly harsh terror attacks, as part of its revolutionary outlook.

There is no rabbinical authority there. They do not accept the rabbinical authority linked to the "price tag" hooligans – like Rabbi Yitzchak Ginzburg. On the other hand, rabbis like Ginzburg disagree with their ideology.

This group is made up of dozens of young people, some of them minors. The older ones are 22 or 23 years old. They come from all parts of the country and have no unique characteristics apart from the fact that they have all left their families and educational institutions and live in the Judea and Samaria hills. They don't have a permanent settlement point. Rather, they move from place to place on a daily basis.

Their operational doctrine can be found in a document authored by Moshe Orbach of Bnei Brak, who belongs to the group that torched the Church of the Multiplication of the Loaves and Fish at Tabgha. Their ideology focuses on targeting the Israeli society's weak spots in order to create chaos and bring it down.

They have marked five potential explosive points for themselves: Igniting a conflict at the Temple Mount, banishing gentiles (by torching Arab homes), eliminating idol worship (by torching churches and mosques), religious coercion and undermining the government system. They are not talking about armed activity like the Jewish Underground and are not using firearms for now. They create provocations and don't hesitate to kill – a step up from the "price tag" activity, which focused on property.

Their first known operation was in December 2014, when they tried to torch a house in South Mount Hebron. The Shin Bet detained the perpetrators, but they were released under administrative restrictions. In February 2015, they tried to torch a church in Bethlehem, and in July they torched the church at Tabgha. Five were detained, but only two were prosecuted. Moshe Orbach was indicted.

The group was located by the Shin Bet, dozens of its members were called in for a deterrence talk, and some of them were subject to movement restrictions and ordered to spend the night at home. Some were even removed from the area. But without clear legal evidence, they were released.

This year alone, the Shin Bet has thwarted at least three terror attacks planned by this group – but only a very small number of indictments have been filed in light of restrictions on the Shin Bet's ability to question civilians.

The cell which carried out the attack at the Bethlehem church was caught, but the evidence obtained so far has made it impossible to file charges. They are working on it: Administrative orders have been issued against the suspects, but the legal proceedings are moving very slowly and there is no longer any deterrence.

On Sunday, the Shin Bet asked the cabinet to allow the implementation of quick and adamant legal proceedings. Five indictments have been filed so far in 2015, and 22 were filed in 2014, most of them for "price tag" activities. But only three suspects have been arrested for arson and sentenced to two-three years in prison. It was the first time the Shin Bet succeeded in arresting "price tag" members, and they mostly have Defense Minister Moshe Ya'alon to thank for that, following his decision to define the activity as an "unauthorized organization," which provided the Shin Bet with intensive tools. On Sunday, the Shin Bet demanded even more tools in order to eradicate this new insanity.