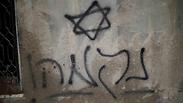 Graffiti reading 'revenge' at the scene of the arson attack. Arsonists must get what they deserve
Photo: Zacharia Sadeh, Rabbis for Human Rights
It takes courage to catch them and give them the punishment they deserve. The people who burned Palestinian baby Ali Dawabsheh to death, scorched his four-year-old brother Ahmad and his parents Saad and Reham, who are fighting for their lives, have to pay. It's a test for all of us.

Anyone who has any doubts should look for the chilling testimony of Ibrahim Dawabsheh, the neighbor from the adjacent house in the village of Duma. At 2 am he was busy talking to his fiancée on the phone, when he heard the yelling. He managed to see two masked people standing above their victims to confirm their deaths. The masked people tried to chase Ibrahim. Had he not escaped, he would have suffered a similar fate.

Growing Problem

Op-ed: The two hate crimes which shocked Israelis over the weekend drew condemnations from all parts of the political spectrum, but it's unlikely there will be any action to prevent the next attacks.

This time there must be no cover up. We must turn every stone, catch them, prosecute them and destroy their homes. Without a brave decision, once and for all, this affair will not calm down. There is no excuse in the world to justify the horror at the village of Duma.

So far, everything has been going according to routine: Defense Minister Moshe Ya'alon condemned the attack, Prime Minister Benjamin Netanyahu telephoned Palestinian President Mahmoud Abbas, and the security organizations are working on the need to curb the other side's revenge, to convince that "they" are not "us."

Abbas is threatening to approach international institutions, while we are afraid of a third intifada. In the state of Tel Aviv I hear from young people that they are hopeless over what is happening here. In the state of the settlers, people are waiting to see what the Shin Bet will do. It's not a simple situation. The pictures of 18-month-old Dawabsheh are circulating around the world. Unless our side makes a real move after the arsonists are caught, there will be fire.

Let's not forget: We are the ones who invented the punishment of destroying terrorists' homes. A Palestinian man or woman who launch an attack against Israelis take into account that the punishment will arrive, that their family will pay. Granted, rabbis will cry out and right-wing Knesset members will search for excuses, launch a "din rodef" (law of the pursuer," permitting extrajudicial killings) against the legal system and the security organizations. And despite political pettiness, the person who telephoned Abbas on Friday night and ran to the hospital – and I believe that Netanyahu really is shocked – must take one step further and show that Israel knows how to deal with brave decisions.

All kinds of self-righteous people in Israel wrote on social media that we must not make generalizations, that we must remember that Palestinian terrorists have murdered Israeli babies and children in cold blood. I have the pictures of Jewish baby Shalhevet Pass and the children of the Fogel family fixed before my eyes. I haven't forgotten. There is no forgiveness. I hope we are better than the other side. We carried a heavy baggage on our way to establish a state. We will never forget the revenge for the blood of a little child which has yet been devised by Satan.

In October 1985, Egyptian soldier Suleiman Khater murdered a group of Israeli tourists in Ras Burqa. When he was caught, the Egyptians rushed to declare him "insane" and sentenced him to life in prison. His imprisonment burdened the government, and one day he was found hanging in his cell.

In 1997, Jordanian soldier Ahmed Daqamseh murdered a group of Israeli high school girls who were on a trip in Naharayim. Jordan's King Hussein cut short his visit to Spain and rushed to the mourners' homes in Beit Shemesh, got down on his knees and asked for forgiveness. The opponents of peace are still, to this very day, calling for the murderer's release. He was also declared "insane."

I find it hard to believe that the arsonists of the Dawabsheh family's home will not be found. One doesn't have to be a big Shin Bet expert to find out who didn't come home or who left the yeshiva over the weekend. The group of delusionists is already dreaming of kissing the hands contaminated with blood. Courage, decision makers. Give them what they deserve.