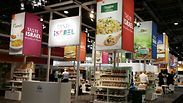 Israeli food marketed abroad
PR photo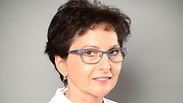 Caroline Naveh, food and beverage manager at the Israeli Export Institute
Photo: Ronen Ackerman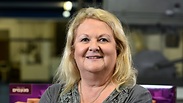 Liora Birnhack, owner and CEO of the Manamim company
Photo courtesy of Manamim
The community of Iranian exiles in the United States appears to be uninterested in Israel's response to the nuclear agreement with Iran, but its members seem quite enthusiastic about a wafer produced in Israel, which they have been buying in large quantities.

The Israeli flavor has always been loved, but in the past few years it's safe to say that Israel is perceived around the world as a culinary power, both thanks to its innovation, variety and quality, but also thanks to the fact that the majority of Israeli food exported abroad is kosher, appealing to people with different allergies who trust the supervised food and to Muslims in need of halal food, which adheres to Islamic law. These groups are definitely satisfied with the kashrut stamp on the Israeli products.

Food and beverage exports from Israel in the first half of 2015 totaled some $454 million, an 8% drop compared to the corresponding half last year. In 2014, food and beverage exports totaled $945 million. The export of food and beverages from Israel has almost doubled since the year 2000.
Looking for the Israeli taste in the East
"In the past year we have had buyers from the East – Taiwan, China and Japan – who came to Israel to find substitutes for rice, and we are not short of that," says Caroline Naveh, food and beverage manager in the Israel Export and International Cooperation Institute (IEICI).

Israeli Food

Yedioth Ahronoth reporters

Yedioth Ahronoth correspondents around the world write about Israeli food they miss the most abroad.

According to Naveh, many Israeli dishes will be presented during Israel Week, which will be held in Taiwan in November, including an Israeli tea brand that will likely be sold in China.

"It's like selling ice to Eskimos. The local buyers asked us to present ptitim (baked Israeli pasta shaped like rice) and couscous, and according to the success at the Israel Week in Taiwan, they will decide which Israeli food will make to the shelves. They want us to bring things which can replace rice, but with a satiating and nutritional value, so that they can diversify their life with new food and flavors," Naveh explains.

"Buyers from Japan have said to me, 'We know you have all the possible trends and that we will find everything in Israel, and that's a strong statement," she adds with Israeli pride. "We have noticed that they are looking for opportunities here. They are open to new ideas and are looking to import from us.

"The political issue doesn't exist in the East," she clarifies. "They highly regard the Jewish and Israeli mind and are looking to do business with us."
Coconut-flavored wafers
Back to the Israeli wafers. Liora Birnhack, owner and CEO of the Manamim company, says her company's exports total about 15% of production, and that its main market is the US for kosher food and recently also the market of Iranian exiles. The company is also focusing its efforts on the developing East with interesting new flavors: Pineapple-, mango- and coconut-flavored wafers.

"Until now, the Japanese market was less suitable for us because the consumer culture in Japan is about selling in small packages," she explains. "But discount chains like Costco entered the market recently, introducing larger packages, and we are working on exporting our products there."

But although many Israeli exporters are headed eastward, Europe remains very strong on the Israeli export map. Ido Yaniv, director of the Priniv juice manufacturer, says the list of European countries his company exports to is very long.

"We export to countries like Belgium, France and Austria, and mainly to Russia with 250 tons of juice a year, and 300 tons to Finland, where there are no oranges at all. In Finland, for example, we hold a huge market share of more than 30% of the local market," he says.

Yaniv presents an anecdote about the difference between the Israeli and Finnish taste: "The Finnish demand is of course for 100% natural juice, but they like juice with 10% fruit chunks. The Israelis, on the other hand, only like 2% fruit chunks." In other words, the Finns don't drink their juice, they eat it.
Israeli hummus in Kazakhstan
Another dish which is probably mostly identified with Israeli exports – hummus – is also sold almost all over the world. Adi Kauftell, marketing and export manager at Miki Delicatessen, notes that the company's chickpea paste is exported to dozens of countries including Canada, the US, Europe and the East, with some 3,000 tons exported to each country.

"Our most sold product is the Israeli hummus," she says. "Hummus is a developing product all over the world. The world's citizens are being exposed to a paste which has been famous in Israel for many years and are beginning to consume it. Hummus is perceived as a healthy product with good nutritional values and it fits well with the vegetarian and vegan trend which is growing in the world.

"Kazakhstan, for example, is a relatively new country we have started exporting to. We have been working with them for four years and are mainly exporting hummus there."

She says, however, that there is still a lot of work to do in the East with consumers who are not familiar enough with the favorite Israeli dish. "In order to educate the locals, we are cooperating with a local Israeli distributor who is working on exposing the Chinese to hummus."

Israeli wine is popular around the world too. Arnon Harel, marketing manager at Golan Heights Winery, says the winery exports to 32 countries around the world about a million and a half bottles a year.

"Our wine is served in Michelin-starred restaurants and sold in most famous flagship stores in the world," he notes. "In Hong Kong, for example, they prefer Golan Heights Winery's flagship wine, Yarden Katzrin, because it brings the locals the dominant basaltic flavors of our tiny country."

It's important to note that the success in Israeli exports in the food industry is not trivial, as the Israeli market is considered relatively expensive compared to prices in the world.

"We are expensive because of the production costs, but in order to deal with it we focus on the premium markets in advance," Caroline Naveh explains. "We believe, and rightfully so, that we are better. We meet the standards, we have high-quality packaging and the Israeli products are highly regarded in the world, and that allows us to export despite the relatively expensive price."