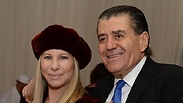 Sterisand and Saban
Photo: Peter Halmagyl
LOS ANGELES – Not one eye in the massive ballroom of the Beverly Hilton Hotel stayed dry when Zur Goldin, the identical twin of a Givati officer killed during Operation Protective Edge, asked the 1,200 guests to stand for a moment of silence in honor of his brother and his fellow soldiers who fell in Gaza.

Hollywood royalty answered Goldin's request with grace at the Thursday night gala in Beverly Hills, which included Arnold Schwarzenegger, Sylvester Stallone, Barbara Streisand, Pamela Anderson, and other well-known entertainment industry figures.

The annual fundraising bash thrown by the Los Angeles branch of the Friends of the IDF, led by Israeli-American businessman Haim Saban, raised $33.5 million in donations for the Israeli military.

Among the star-studded stars at the gala were also notable international businesspersons like founder and executive chairman of Oracle, Larry Ellison – who was the largest donor of the night with a nine million dollar pledge – and founder and CEO of computer giant Dell, Michael Dell.

There were 16 IDF soldiers at the gala, with the majority having played a significant role in Operation Protective Edge. The Israeli contingent to the glamorous event included actresses Moran Atias and Noa Tishbi as well as internationally-known musician Idan Raichel.

The evening's largest spender, Ellison, said that "there is no greater honor than supporting some of the bravest people in the world, and I thank FIDF for providing us with this opportunity year-after-year to celebrate and support these soldiers."

He added: "These men and women come together with indefatigable purpose, to defend Israel and strive to co-exist in peace."

Saban, chairing the gala for an eighth-consecutive year, noted that "The caliber of Gala attendees from Hollywood, tech, business and other walks of life – especially a large contingent of people without ties to Israel or Judaism – ultimately speaks to their admiration for the heroic men and women of the IDF and the incredible work that the FIDF does to support them."

Pamela Anderson, who has visited Israel in the past, said that Israel was an enchanting land and one of her favorite places to visit. She added that Israel was a must-visit destination for every type of traveler.