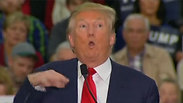 Donald Trump. Rude, quick-tempered and addicted to the noise he makes
Photo from YouTube
An American acquaintance woke up one morning after a sleepless night, read the papers, browsed through the social networks, and said to her husband with a certain amount of panic: "The Middle Ages are back."

At his request, she elaborated: The Islamic State's massacres in Syria and Boko Haram in Africa, the terror attacks in Sinai and Paris, the knife terrorism in Israel and the territories, the xenophobia in Europe and the United States, and the comments made by the Republican Party's presidential candidates.

Trumping Terrorism

Republican presidential candidate dismisses need to know the 'individual players' in Middle East conflict, says the key is hiring the right advisors.

That's a long list, no doubt. Even if the Middle Ages are not really returning - history only repeats itself in songs - it seems that millions, people from rival nations and rival religions, are missing the values which dominated Europe during that dark period. The world is too complicated for them: They want it simple, basic, impulsive, unique, Either you follow me on everything - or you deserve to die.

Many of those preaching a return to the past wear long gowns of religious clerics. They include Shi'ites, Sunnis, Catholics, Protestants, Evangelicals, Hindus - and rabbis of our own. There is no point in wasting words on them. The danger they pose to the welfare of the human society, to human dignity, to life itself, is clear and imminent.

It's harder to understand the extent of the damage posed by the others, those who are not dressed like ayatollahs but only think like them. The US presidential elections will be held in less than a year, and the Republican Party's two leading candidates at the moment are putting the political system and the party they represent to shame.

The entire free world looks up to America. It yearns for a vision and a leader it can stand behind. What are the Republicans offering it? Donald Trump is an Oren Hazan who has made money. He is rude, quick-tempered and addicted to the noise he makes as if it were a drug. Ben Carson is a Bezalel Smotrich with a PhD. He has dark views, screaming ignorance and problematic credibility. The possibility that one of these two will hold world peace in his hands is as scary as ISIS's sleeper cells in Molenbeek.

The time machine is working overtime here as well. Instead of the government and Knesset taking over the street, the street has taken over them. Knesset members are encouraging the public to act in a way which necessarily leads to manslaughter and murder offenses. The public discourse is filled with racist expressions.

The prime minister announced last week that he would not tolerate racist expressions, but forgot that his racist, false, inciting speech on the eve of the elections brought the No. 30 candidate on the Likud's list into the Knesset. Thanks to Benjamin Netanyahu's shameless trick, we have been blessed with Oren Hazan.

We rightfully panic when we hear Turkish President Recep Tayyip Erdogan's aggressive statements; we are rightfully deterred by Russian President Vladimir Putin's threats. They are both getting involved in acts which are endangering world peace (and indirectly, Israel's peace too). They are also part of the world's slide backwards, to different times. But in the current Israeli government, ministers see Putin and Erdogan as role models.

Netanyahu remembered recently that he had promised to change the government system in Israel within 100 days and had forgotten to do it. He rushed to appoint a committed led by Minister Yariv Levin to change the government system. He didn't ask Levin, an outspoken enemy of the Supreme Court and of the separation of powers in Israeli democracy, what kind of regime he seeks to establish here. Perhaps he did ask him. I don't know what concerns me more.

We are allegedly not moving: The State is wallowing in its comfort swamp, in eternal status quo. We are basically regressing all the time.

One of the most common bumper stickers in Israel in recent years reads: "We have no one to trust but our father in Heaven." When I first bumped into these stickers, I was angry: How is it possible that in such an ambitious, creative society, filled with talented people, a society which is dealing on its own with enemies seeking to destroy it, people adopt such an inert, apathetic, desperate slogan. On second thought, I may have read it wrong. The beginning is the essence: We have no one to trust.