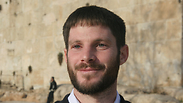 Bezalel Smotrich
Photo: Ishy Hazni
Bayit Yehudi MK Bezalel Smotrich, who just recently angered many by referring to the gay pride parade as the "abomination parade," has once again made a controversial comment about the LGBT community.

Earlier this week, Smotrich claimed during an interview with Galey Israel Radio that the gay community was influencing public opinion by using its alleged control over the media.

Smotrich specifically avoided using the terms "homosexual," or "gay," and instead referred to members of the gay community as "they" and "those."

"There are a whole lot of prominent figures in the Israeli media, those who have the microphone, and they determine for all of us what to think and what to say," he said.

He asserted that public sympathy for the gay community and the legitimization it has came thanks to their "control" of the media.

"For many years I asked myself, 'how could it be that suddenly everyone...' What, has everyone gotten lost? After all, I'm convinced that 95 percent of Israeli citizens would very much want their children to start wonderful families and give them grandchildren. A healthy person, a normal person, this is what he wants," he said.

He went on to claim that the members of the gay community were using the media to advance their own agenda and to silence others.

"These people possess an immense power in the ability to shape our perceptions," he said. "When you look at the list today, it has many dozens of the most dominant figures. So naturally they couldn't listen to an opinion like mine and they cut me off after a quarter of a sentence, and I come out looking bad because I can't explain myself."

Smotrich didn't stop with the gay community, and wasn't afraid to criticize his party leader, Naftali Bennett, as well.

He said about Bennett's decision to support the gay community that "if the chairman of my party wants to censor Torah, then good for him. Because I don't censor the Torah."

Bennett's office was quick to distance itself from Smotrich's comments.

"Bennett is everyone's education minister: Religious, secular, haredim, Arabs, Jews, and the gay community as well," a statement from Bennett's office said. "The minister believes every person, no matter who they are, deserves respect, and this is the way of Judaism: Respect, and not scorn. The minister rejects any form of debasement of a person based on his beliefs, identity, or orientation."

Social Equality Minister Gila Gamliel (Likud) also slammed Smotrich: "There is no place in Israel for such closed-minded and racist comments."

Members of the opposition also responded with anger. Meretz chairwoman Zehava Galon said that "the cry of the robbed Cossack Smotrich, who accuses the gay community of taking over the media while those who took over were actually from the extremist right wing, is borderline paranoia and impertinence."

MK Stav Shaffir (Zionist Union), meanwhile, has already filed a request to remove Smotrich of his position as the deputy Knesset speaker.

"His comments remind me, in a sickening way, of comments made by the worst of our enemies. He's not the first to claim an entire group was ruling the media - many anti-Semites said that about our people," she said. "Only two weeks have passed since the horrible murder at the pride parade, and an MK serving as the deputy Knesset speaker dares making such closed-minded comments."

Smotrich's homophobic comments are not new. In 2006, he organized what he called "The Beast Parade" in protest of the gay pride parade in Jerusalem.