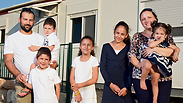 The Sahal family at their new home in Brukhin
Photo: Tal Shahar
French Jewish families make aliyah—to Samaria
Yael and Yohan wanted to stop being afraid of anti-Semitism, Sarah and Stéphane were looking for a place where their kids could play outside, while Elodie decided to leave her successful chain of pubs behind; 12 families left the comforts of Paris to settle in trailer homes in Brukhin.
"I swore to my mother that we'll never live in the territories," says Yael Sahal, smiling. She's 34, a family physician and mother of five. It's June, and Yael and her husband Yohan are piling boxes into their living room in Créteil, the sixth-largest suburb of Paris. The boxes would be unpacked about two weeks after that. Where? You guessed it, in the territories.

And not just anywhere in the territories, but in the settlement of Brukhin in the Samaria region of the West Bank, which, up until two years ago, had been defined as an illegal outpost. Coming to Brukhin alongside the Sahals are 12 other families from France, all of whom will be living in a trailer park that has been prepared especially for them.

"When we came to a meeting for families who want to immigrate to Israel as part of a group, we were shown projects in Zikhron Ya'akov, Kfar Saba, Eli, and Brukhin. I was very impressed with the pretty photos of the Samaria and Binyamin areas, but Eli and Brukhin weren't an option. When we came for a visit to see these places up close, I realized that I had to quickly speak with my mother. We fell in love with Brukhin."

Her mother says that while Dr. Sahal was a big girl and could do what she pleased—babysitting visits from grandma were out of the question. "You have five children, you have responsibilities—but I will never come visit you," she says.

"But she just recently renewed her passport," Yohan says, laughing. "I think she won't just come and visit, but also immigrate to Israel."

The project that will bring the Sahal family to Israel—and that brought me to Paris—is part of a wide-scale initiative by the Absorption of Israel Communities foundation, which works to bring French Jewish families to Israel through group immigration.

The future immigrants go through a two-year process, half of which is done in France, which includes finding and preparing the families for the immigration process from a spiritual, mental and technical perspective.

Life of France's Jews

Since the attack on the kosher supermarket in Paris, Jewish institutions in France operate under heavy guard, with commandos outside schools and patrols during prayers at the synagogue; meanwhile, 57% of French Jews want to move to Israel.

At the end of the first year, the families move to Israel and are absorbed into an existing community. For another year, they receive group and individual support, until they can stand on their own.

Behind the initiative is Rabbi Yehoshua Zuckerman, but those running it in practice is the Vach family from the settlement of Eli. For the past three years, the Absorption of Israel Communities foundation has been working with the Samaria Regional Council, and it is to that area that the largest group of Jewish immigrants will be coming this year.

"Anyone who makes aliyah (Jewish immigration to Israel) is crazy," Yohan, 38, says. "But those who make aliyah to the Samaria region are the happiest of crazies. There are terror attacks and anti-Semitism in Paris as well, so it's better to be in your own land, where at least you'll have someone to protect you. If you have to be afraid, then at least you should be afraid somewhere that's your home."

Yohan is the son of a traditional family of Algerian descent. His grandmother immigrated to Ashkelon from France about two years ago, becoming the oldest new immigrant to Israel. He also has an uncle in the country, who was evicted from his home in Gush Katif during the 2005 Gaza disengagement, so his familiarity with the territories is somewhat greater than that of the average person making aliyah.

"We were excited by the vistas and the people," he says while explaining what convinced him that happiness awaited him and his family in Brukhin. "When we were there, we simply started crying. We felt like (the people there) really wanted us, wholeheartedly. We were told that Israeli children were rude, but we met families with a lot of calm and polite children."

Will you be able to live in a trailer?

"When we got married, we didn't have anything," Yohan remembers. "We slept on mattresses in a rented apartment. We started from nothing (and worked) until we bought this house, with a large mortgage. We've already sold our house here and we hope in the future to be able to buy a house in Israel as well. This house is 80 square meters, exactly the size of the trailer we'll be living in. If we succeeded here, we'll succeed there as well."

"We were afraid to make the decision," Yael says. "On the one hand, we fell in love with the people and the views. But on the other hand, Brukhin is a really new outpost, that doesn't even have a convenience store."

Isn't moving to a trailer on a rocky and barren mountain, without even a convenience store nearby, too extreme of a change?

"You're doing damage. Why did I bother bringing this settler to Paris, so she could ruin everything I've been working on for months?" jumps in Yossi Dagan, the head of Samaria Regional Council, drawing laughter from everyone in the room. "When we decided that Brukhin would take in the new immigrants group this year, the condition we made was that a convenience store is built there," he assures his listeners. "By the time they move there, the store will be ready."

The idea to immigrate as part of a group came to be after good friends of the Sahals returned to France disappointed following six years in Jerusalem. "When you're alone in a city, your chances of successfully integrating are much lower," Yael says. "You're lonely and there is no support around you. When my grandparents came to France as refugees from Poland, they were penniless and there was no one to help them integrate. We're happy. We have property, and an entire community to support us."

Life in the West Bank

Oded Shalom, Elisha Ben-Kimon

Ten years after the confrontation that has become a symbol, the residents of Amona are preparing for the next round; approaching the High Court of Justice's deadline for the evacuation of the outpost, the settlers are recruiting thousands of supporters to protest on the deadline and are pressuring right-wing ministers to find a way to circumvent the order.

Why didn't you choose Eli, a bigger and more established settlement?

Yael shrugged. "Eli is not for me. I was there at the synagogue on Shabbat. I didn't hear any Hebrew at all. Everyone was talking in French. That's not for me. This is no way to be integrated. If we don't want to have to come back, like our friends, we need to come with a group so we're not alone—but not to a ghetto. In Brukhin, not only will we receive more support, but we'll also have something to contribute. It's about coming to a place we are needed in."

"They're Zionists, dropping everything and making aliyah," Dagan enthusiastically added. "Instead of being refugees in Israel, they'll be pioneers in Brukhin."

"It's hard for me to use that word," Yael says, looking down. "I feel like it's a bit presumptuous to say we're great Zionists. We didn't serve in the army. We didn't lose anyone at war. In our eyes, only someone who contributed to the State of Israel is a Zionist. Maybe when my children enlist in the IDF we could use that word."
A pub? Why not
We meet with the Sahals again in the evening, this time at a cute local pub in the heart of Paris. Yael held a plate with a "Zionist" meringue cookie—in blue and white. Slowly, the pub filled with the 12 excited couples making aliyah, anxiously awaiting the draw for the trailers.
The location was not chosen at random. The owners, Elodie Risberg and her husband, who have a chain of pubs in the French capital, are among the couples moving to Brukhin. Elodie, with her massive mane of curls, is flashing smiles everywhere. She doesn't know a word of Hebrew, and it's hard to see how she is going to fit into Brukhin, where women wear coifs and long skirts.
This, however, doesn't stop Dagan from doing business with her. A pub, he explains to her, will not be suitable in Brukhin, but would work great in the nearby Alei Zahav. "Really?" Elodie asks. "I'm not sure it's a good idea. I'm a bit concerned with how people would see us. Today, we're not religious and our pubs are not kosher. But I want to become observant."
"The Samaria Regional Council is 50 percent religious and 50 percent secular," Dagan explains. "Brukhin is a relatively religious settlement, but they realized that if they wanted to take in new immigrants, they have to accept everyone—including women in tank tops. I love to challenge our settlements. A community is a lot like nature: Standing water draw mosquitoes. A settlement focusing only on itself is an incubator of neighborly disputes. When a settlement takes on a social or national mission—it only serves to strengthen it."
Sarah Zaafran might also seem out of place in Burkhin. Her youthful looks are deceitful, as she is an experienced dentist who speaks with great confidence—but only in French.
"Relatives told us about the project and we came to a meeting in which Shalom Vach, the founder of the Absorption of Israel Communities foundation, told us about group immigration to Israel," she says. "I didn't want to move to the Samaria region, I was afraid. But my husband, Stéphane, was actually interested."
Making Aliyah
An enormous event was held for 206 Jews making aliyah to Israel from France in the largest aliyah flight of the year; While 2012 saw only 1,900 French Jews make aliyah, that number has risen to over 7,800 in 2015; Jewish Agency claims that 10% of French Jewry has made Aliyah since 2000.
When the time came to choose which of them will go on a visit to Israel to choose where they would live, Stéphane insisted that Sarah goes. "He wanted me to see it with my own eyes and then decide. I was there for Shabbat, and all of a sudden I saw I wasn't afraid at all. I felt at ease. I felt safe. I really loved the people. I went back to France and gave Stéphane a positive answer."
Stéphane, who works in IT, is already familiar with life in the settlements. When he was young, he spent a year studying in Kokhav Ya'akov, and unlike his wife, his Hebrew is almost fluent.
"I am closely familiar with small settlements," he says. "Kokhav Ya'akov was a new settlement with 150 families (at the time), like Brukhin is now. I told Sarah a small settlement was a good thing, that we shouldn't rule it out because of fear. That's why it was important to me that she goes there and makes a decision herself. As a man, I can get along anywhere in Israel, but she, as a woman, who is more focused on the children, was more afraid."
The couple, who live in a rented apartment in a suburb of Paris, have a five-year-old son and another two-year-old son. Their elder son was worried about the expected change. "When I returned home, I calmed him down. I told him about the petting zoo at the school, the big playground opposite the synagogue and about how he could finally go outside alone to play on Shabbat," Sarah says. "Children in Ashdod or Ashkelon don't go outside alone, but inside a settlement they do. That's why I felt safe."
The five year old was immediately convinced, but his grandparents are still having a hard time handling the news. "At first my parents were not happy with the decision to make aliyah and move to the Samaria region," Sarah says. "For a month, I wasn't allowed to talk to them about the aliyah. But they're slowly accepting it."
"We're soon going to hold an Upsherin (haircutting) ceremony for the younger son, and then Sarah's parents will surely come to visit Brukhin," hopes Stéphane, whose own mother already lives in Bat Yam. "Most of the couples who chose Brukhin thought at first that they would live in Netanya, Ashdod, and other known places. But when you come to Brukhin and you see the settlement and the familiarity between people—you realize that this would be the best place and the most fun place for children. Whenever there was some rioting in Paris, we got worried phone calls from Israel—because to the outside observer, it appeared as if the entire city was burning. That's how the French see the Samaria region—as if there are only Arabs there, and there are shootings all day. The truth is the same can be says about many Israelis, who don't know the Samaria region and are afraid to cross the Green Line."
Two other immigration groups arrived in the Samaria region before this year's group heading to Brukhin: Eight families arrived about two years ago and settled in Yakir, and 12 families moved to Peduel last year.
Life of France's Jews
A comprehensive survey of France's large Jewish community tells of lives lived in fear: two-thirds feel threatened and around half have been physically or verbally attacked.
"This project was started by (previous council head) Gershon Mesika and has become my baby," Dagan says. "I travel to France along with a team from the council that would later accompany the new immigrants, to convince them to come to the Samaria. I'm not afraid to talk to them about pioneering and Zionism. It's what they're looking for."
Dagan says he was moved to action following his own evacuation from Sa-Nur 11 years ago. "I still wake up at night because of the expulsion—I haven't been able to sleep easy since—and I'm still preoccupied by the thought of what can I do so this won't happen again," he says.
"I realized the settlement enterprise's biggest enemy is ignorance, which is why it's important to me to bring people from Israel and from all over the world—of all types and kinds—to visit Samaria. I also realized that what is important is having a mass of people. Ariel and Yitzhar are located at the same distance east of the Green Line. There's no dispute about Ariel anymore, while there is one about Yitzhar," he continues.
"My vision is to have a million people living in the Samaria. I believe that in a few years, the floodgates would open and 200,000 Jews would leave France. If we're prepared for it, they'll come to us to Samaria. Next year, we want to bring a much larger group," Dagan adds.
And who will fund this vision?
"The Immigration and Absorption Ministry is giving NIS 60,000. It's too little, but that's what we have. (The Settlement Movement) Amana built the trailers, the Samaria Regional Council laid the infrastructure for the trailers, and we're also raising donations from private individuals who wish to remain anonymous."
Trailer No. 1
A large man walks into the pub, his name is David Tzuriya. Two years ago, he left a renovated 400-square-meter apartment in Paris behind, and made aliyah to live in a narrow trailer in Yakir. He is in Paris on business, as he continues managing his real estate from afar, and has decided to come and greet the new participants in the project.
"It's hard to live in a trailer, but that's not what's important. What's important is being integrated (into society)," he says.
"The decision to make aliyah came about quite suddenly," he tells them. "Our friends were planning on making aliyah as part of the project, but then the husband passed away. The wife wanted to make aliyah on her own, as a widow, but Shalom explained to her that it wasn't right, that it would be too hard for her. My wife was very angry, picked up the phone and called to yell at him that he should not be speaking to a widow in this manner. I'm not sure how, but he managed to calm my wife down and explained to her that he now has a spot available and that she was welcome to make aliyah with the group. And that's what happened."
French Jews in Israel
Record-breaking numbers of new immigrants from France are making Netanya their home, leading the city to become 'indistinguishable from Nice', and establishing a center of French culture in Israel.
"Because we rushed to make aliyah," he goes on, "and despite the fact we own many businesses, we arrived (in Israel) with only ten shekels in our pockets because we didn't have time to sell anything. In Israel, we have a house in Eilat, my parents have a vacation home in Ashdod, and my wife's parents have a house in Netanya. But we didn't want to be in some city and be alone. Had I made aliyah to Netanya or Ashdod, I know I would not have lasted. The way that it is, we're in our own bubble. Cities, in Israel or in France, with their overcrowding and the noise from air-conditioning, are great for vacation—not for living."
But Tzuriya might not build his permanent home in Yakir. He's more interested in setting up a new outpost, and already has a list of ten families that would like to join him.
"Every two days, he comes to me with a new idea," Dagan complains with a smile. "That is the kind of people I like, those who have initiative," he adds, and then turns to Tzuriya: "What do you think about opening a convenience store in Brukhin?"
As Dagan continues his search for an operator for Brukhin's convenience store, the draw is about to begin. An aerial photo of Brukhin is projected on the wall, showing 50 permanent homes and some 100 trailers. Two years ago, after an eight-year freeze, the building permits for the settlement were finally approved, and now dozens more permanent homes are being built there. The site the new immigrants are to live in is adjacent to trailers of Israelis who have been living there for several years already.
The draw begins. Moving speeches are made, a lot of tears come rolling down and each family is waving around a white card with the number of the trailer they received. The Sahals got Trailer No. 1, the leftmost one.
"This is the most important moment," they say, "because this is the moment in which we finally have a hold on the land of Israel, we have land."
The Zaafran family gets Trailer No. 7, which is located opposite the Sahal family's new home. They shake hands. In two months, they'll be neighbors.
Eating on the floor
The residents of Brukhin planned to welcome their new neighbors with a special event, which would start with people gathering the synagogue and then marching to the trailers; they would hear speeches, greetings will be made, and finally—mezuzot will be set on the new inhabitants' doorposts.
But meanwhile, chaos reigns free. It was only a few minutes before 6pm—when old and new residents alike were to gather at the synagogue—that the convenience store arrived, after four days of promises at the port that it would arrive at any moment.
A massive truck drives in reverse onto the unpaved road connecting the trailers of the Sahal and Zaafran families. The entire settlement—young and old, women and children—rush to the container. A new life spills from inside: refrigerators, ovens, closet doors, crates with books or clothes. All items are being carried, with great labor, to the trailers, placed on the ground just outside their doors.
Burkhin residents help new French olim unload container (אסתר אלוש דוברת מועצת שומרון)
A sweaty Stéphane Zaafran, who coordinates the work, finally agrees to stop working for two minutes to pose for a photo to remember the moment. "I'm not comfortable with everyone working and me taking pictures," he mumbles before fleeing.
The Zaafran family has been wandering around the country for two weeks now. At first, they stayed with Stéphane's mother in Bat Yam, then they stayed for a week at the Absorption Center in Haifa. After being assured that their container was on its way, they arrived in Brukhin. But as the container tarried a few more days, they spent them in the home of one of the families in the settlement. The look in Sarah Zaafran's eyes clearly conveys how desperately they need some privacy, and how desperately they need to regain that sense of home. But there's still chaos outside, and everything that makes a house a home is still on the ground, under the open sky.
At the Sahal family's trailer, things are more at ease. Their container arrived a few days earlier. "There aren't any people in Brukhin, only angels," Yohan Sahal determines. "For a few days and nights now that people are helping us unload and put everything together. People are here until 1am. At the moment, we still don't have cooking gas, so they are also providing us with three meals every day."
It takes until 7:30pm to empty out the Zaafran family container. The festive march from the synagogue to the trailers was, of course, canceled, and the residents come together to listen to a series of speeches in Hebrew and French about Zionism, pioneering, and even the arrival of the Messiah.
Brukhin's rabbi asks the new immigrants to say the "Shehecheyanu" ("Who Has Given Us Life") blessing, even though they are within the nine days before Tisha B'Av and such blessings are normally not said at this time. Regardless, one of the immigrants says the blessing with a shaky voice, and the crowd answers with a hearty "Amen."
"You see these mountains?" Yael Sahal points. "That is why I'm here, for this view."
Then, they set out to place the mezuzot on the doorposts of the new trailer homes. A particularly large, wood-carved mezuzah is put on the doorpost of the Sahal family trailer. "We got this as a gift from our friends before making aliyah," Yael says. "It's the same friends who made aliyah to Jerusalem and returned to France six years later. To me, it is very emotional and symbolic to be putting it on the doorpost here today."
The Zaafran family is still in shock. They politely decline offers to eat or spend another night as guests of one of the older families in the outpost.
Three "adoptive families" are allocated to each immigrant family, after it was determined two is not enough. The welcoming process starts when a group of veteran families come to the airport to greet the new arrivals. During their first days in Israel—since most of their possessions still haven't arrived—the new immigrants stay with their "adoptive families." After that, they receive help unloading their containers and meals. They also get help with their children, and are aided in the complex process of learning Hebrew and finding a job.
The "adoptive families" accept Zaafran's embarrassment with understanding. One of the men is giving out orders, in the most sensitive of ways. "You now have an hour to unwind in your trailer and eat dinner in peace. Eat on the floor, it's not that bad. In an hour, we'll come back and start putting everything together. That way you can spend the night at the trailer."
The Zaafrans nod, content. Sarah crosses the unpaved road to the Sahal family's trailer, where the dinner prepared for them is waiting on three trays in the refrigerator: Moroccan fish, baguettes, salads and cheese toasts. She returns to the trailer, to her husband and children, and closes the door to her new home behind her.