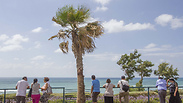 The coastal city of Netanya markets itself as the "Israeli Riviera" and walking along its main pedestrian boulevard, one would be hard-pressed to tell it apart from its twin city of Nice. Barely a word of Hebrew is spoken, and real estate ads, restaurant menus and cafe conversations are mostly in French.

An increase in anti-Semitic attacks by Muslim extremists in France, home to the world's third-largest Jewish population, has spawned an unprecedented wave of immigration to Israel. Netanya, with its seaside chic and established French-speaking community, has become their top destination.

Last year, for the first time, France was Israel's top source of immigrants, according to the Jewish Agency. A record 7,200 French Jews arrived in 2014, double the number from the previous year. Of those, about 2,000 came to Netanya, a Mediterranean city whose beaches remind many new arrivals of their Moroccan, Tunisian or Algerian origins.

The surge, which marked the first time in Israeli history that more than 1 percent of a Western country's Jewish population immigrated in a single year, came even before the shooting rampage that killed four Jews in a Paris kosher supermarket in January and devastated the community's already shaky sense of security.

For Fanny Rhoum, a 33-year-old mother of two whose children went to school across from the Hyper Cacher, the supermarket where the attack happened, that was the tipping point. Three days after the attack, she came to Israel to start planning her move.

"We had become paranoid ... every event brought our departure closer," she said Wednesday upon receiving her Israeli ID card in Netanya, just two days after arriving on a special flight from Paris with another 200 immigrants.

"Here we get the feeling that we can protect ourselves. There we have the impression that we are on our own and if, God forbid, something happens we will have to manage."

Seated nearby, 63-year-old Jeanette Malka said she waited for her retirement to move to Israel and now hopes her children and grandchildren will join her. "It's no place to raise Jewish children," she said of France. "We like Netanya a lot. We feel at home here."

Her husband, Chaim, was clearly relishing wearing his small black kipah, something he said he feared to do in public in Paris.

Experts say European Jews have not felt this threatened since World War II, when 6 million Jews were murdered in the Nazi Holocaust. Jews have been targeted in Belgium, Denmark and other European countries, but France has seen the worst of it. Jews have increasingly reported assaults and intimidation, mostly from Muslim extremists. While some attacks have been linked to anger at Israeli policies toward the Palestinians, most have been of an anti-Semitic nature.

France's Jewish community of 500,000 is the largest in Europe. Though Jews make up less than 1 percent of the population, French officials say more than 50 percent of all reported racist attacks in 2014 were directed against them.

Ariel Kandel, the Jewish Agency's director of French immigration, said many immigrants also come to Israel out of Zionist fervor or for economic reasons. Unemployment has hovered around 10 percent in France since 2009, compared to less than 5 percent in Israel.

But while annual migration numbers have historically hovered between 1,000 to 2,000, he said the exodus kicked off after the 2012 shooting attack against a Jewish school Toulouse that killed three children and a rabbi.

"After that, I just couldn't stay there anymore," said Ida Mardoukh, a 45-year-old mother of three who moved from Toulouse to Netanya. "There are attacks in Israel too, but this is home. At least here we can live as Jews."

Following the January killings at the kosher supermarket, Prime Minister Benjamin Netanyahu rushed to Paris and openly urged the country's Jews to move to Israel. The Jewish Agency reports that 2015 has already seen a 10 percent bump from last year's record numbers.

European Jews are divided on the question of immigration to Israel. While maintaining close ties to Israel, their community leaders have urged people to stay in their homelands.

The trend has also been deeply troubling for the French government, with top officials pleading with Jews to stay and warning that a mass migration of the community would be seen as a failure of the republic.

France takes pride in its inclusiveness and the Jews' 2,000-year history in the country. It was the first country in Europe to grant Jews full civil rights, in the immediate wake of the 1789 French Revolution. It has had two Jewish prime ministers, and former President Nicolas Sarkozy has Jewish ancestry.

Arriving in Israel, the French immigrants have brought some of that history with them, as well as a French sense of style, culture and food.

Nowhere is that more on display than in Netanya, affectionately known as the French "bubble." Entire neighborhoods have become French-speaking and the busy central promenade is regularly bustling with cafe dwellers, smoking, drinking coffee and eating croissants. Bakeries offer authentic baguettes and brioches, and French music plays as the sandy beach beckons in the background.

"They want to be near the sea and near their families," explained Kandel, of the Jewish Agency.

Freddo Pachter, who heads Netanya's French absorption project, said the city has embraced them fully, well aware of their particular needs. Most of the newcomers speak nothing but French, and the city has adjusted accordingly, launching a French language website and ensuring there are French speakers in schools and workplaces to help ease the transition.

Unlike previous waves of refugees, Pachter said the French immigrants were mainly educated professionals with strong Zionist ideals.

"Israel wants to invest in them because it knows that they will stay and it's a long-term investment," he said. "They are like fresh blood for the body."