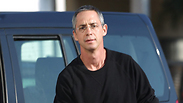 Sharon. A veteran and experienced sheep farmer
Photo: EPA
Gilad Sharon to follow footsteps of father, brother into politics
More than a decade after his father split Likud to form Kadima, late Prime Minister Ariel Sharon's younger son Gilad is preparing to follow in his brother Omri's footsteps and run for a spot on the ruling party's next Knesset list. 'Likud is a pragmatic party which understands that we cannot reach Scandinavian peace right now,' he says.
The name Sharon has been an inseparable part of the political system for years. Ariel Sharon joined politics immediately after retiring from the military and led to the foundation of Likud. While he was prime minister, in the early 2000s, his son Omri served as a Knesset member for Likud and later Kadima. Now, a just before his 50th birthday, the younger son, Gilad Sharon, is preparing to follow in his brother's footsteps.

After joining the Likud – the party his father split in order to create Kadima – in May, Sharon Jr. is now carefully floating a trial balloon. The man who always made sure to remain behind the scenes, who was said to be Ariel Sharon's confidant, says it would not be far-fetched to believe he may run for a spot on the Likud's next Knesset list.

Why now?

"When Dad was politically active, I stayed away because there was a good representation of the things I believe in. When he was hospitalized, I was there every day as part of our daily routine. After Dad passed away, the concern remained, and this stage is another stage in fulfilling the concern."

And is Likud the place for you?

"I was a member of the movement for many years. I care about what happens in the country, and I want to make a difference."

So why not revive Kadima, which your father founded because he stopped believing in Likud, or join Tzipi Livni's Hatnua party?

"When Dad created Kadima I followed him, but Likud is the place for me. It's not a niche party, but a ruling party. Pragmatic, realistic. A party which understands that we cannot reach Scandinavian peace with the Palestinians right now and doesn't suffer from the naivety of ignoring what they do or say, and on the other hand isn't radical and doesn't ignore their existence next to us. The logical and sane outlook is what makes it a ruling party, and that is where I want to be."

Are you sure you are talking about today's Likud with Oren Hazan and The Shadow ?

"Likud is a very big party. There are 130,000 members, and I have no intention of going from one person to the other and checking each one's opinions."

So when the time comes you will seek their support?

"Anyone who enters the political system wants to receive support to be able to influence. The truth is that the media played a part in bringing Hazan and the Shadow up. When something is repeated many times, it is turned into a central thing. It's possible that had those affairs not been repeated, they would not be."

Let's try to position you in Likud. On the scale between Yarin Levin and Gilad Erdan, where are you located?

"I'm on my own scale."

So will we see you run for a place on Likud's next Knesset list?

"That's not far-fetched. It can definitely happen, but I haven't decided yet."

From your answers it seems you had reservations over the creation of Kadima.

"We must remember the background, that Dad's microphone was disconnected and that they basically opposed the plan to leave Gaza. And we must not forget that he led Likud to two of its greatest victories. In fact, beyond the issue of the departure from Gaza, there were no ideological differences."

Before returning to Likud, did you consult other former Kadima members, Tzachi Hanegbi and Ze'ev Elkin, who successfully returned to Likud?

"I did not consult Hanegbi, but he definitely congratulated me."

And did your brother Omri, who has political experience, give you his blessing too?

"Omri is helping me of course, in any way he can, because he is not just my brother, he is also my best friend."

You are joining Likud led by Benjamin Netanyahu, the person your father said does not know whether to help his right hand or his left hand. Are you critical of the prime minister too?

"Likud, unlike other parties, is a large and democratic party, and everyone can express an opinion. When I have criticism, I'll voice it."

Has Netanyahu changed in your opinion?

"There is a series of achievements he can take credit for, including Likud's latest sweeping victory, the low unemployment rate and Israel's economic situation. The improved relations with the Egyptians is also something which must not be taken lightly."

Did you vote Likud in the latest elections?

"That's personal."

From the moment you become a political person, it's certainly a legitimate answer. Did you vote Likud?

"I'm a Likud member, and that's my place. And as for your repeated question, I did."

Gilad Sharon usually avoids media exposure and expresses his thoughts mainly in his opinion columns in Yedioth Ahronoth. His was the focus of number of police investigations, led by the Greek Island affair, for which he was questioned on suspicions that he had received a bribe from businessman Dudi Appel, who hired him as a consultant for the establishment of a tourist site in Greece.

According to a summary of the evidence conducted by then-Attorney General Menachem Mazuz, Appel had paid him a huge sum of $645,000. In addition, although he had no experience in the field, he was promised a $3million bonus if the initiative succeeded. Police investigators believed that Appel's goal was to reach Ariel Sharon through his son and receive reliefs and benefits from the prime minister. In the interrogation, Sharon Jr. exercised his right to remain silent, and the case against him was eventually closed.

"The case was closed, and it doesn't matter why," he says now, as I note that the reason was lack of evidence rather than lack of criminal guilt.

Gilad Sharon rejoined Likud more than a decade after his name stopped appearing on the members' list. But he did not submit the forms to Likud's headquarters in Tel Aviv in person. "I signed them and sent them with someone."

You have already met with some of the party's veterans, those who have perhaps not forgiven your father for splitting Likud. What were the reactions like?

"I usually receive very warm reactions. There is sometimes an argument or a discussion about essence, and that's legitimate. Today I split my time between the sheep I raise and the activists I meet."

What résumé do you bring to the position?

"I am a shepherd, a veteran and experienced sheep farmer. I grew up in a political home. I was exposed to the great concern for every Jew in Israel and worldwide. It's something which bothers me too. Issues of security, settlement and water were discussed around the table in our home. And as a person with a BA and MA in economics from Hebrew University's Faculty of Agriculture in Rehovot, I have a lot to contribute."

And apart from the academic degrees and the name Sharon, what do you bring with you?

"Anyone who has read my columns in the past decade has seen my opinions on different issues there and the solutions I present there."

Do you have a solution to the housing problem?

"I think that what the finance minister is doing with the Mehir Lamishtaken program (a buyer fixed price method) is a good and right solution. I would use this tool to scatter the population. It's impossible for everyone to live in the Tel Aviv metropolitan area. In addition, we must handle bureaucracy, which is a difficult barrier. For example, there is a group of 500 people from the center who want to build a neighborhood in (the southern town of) Ofakim, and have been failing to do so for three years now, and the end is nowhere in sight."

What is your solution to the Palestinian problem?

"I want as much territory as possible, as much security as possible, and as few Palestinians as possible under Israeli responsibility. We will never be able to leave Judea and Samaria, because it's unthinkable that there will be nothing between us and the crazies of the Iranian state. We will never be able to leave the eastern Samaria mountains, Route 354 and the Jerusalem surrounding area and Jordan Valley. On the other hand, we don't want to live in an binational state, and it's impossible to have people with different civil rights in one state. Now all that is left is to balance between the components."

So how do you balance?

"There are those who think that if we just give a little more, remove another community, we will have peace like the peace between Switzerland and France. So I would like to inform that that it won't happen. On the right there are those who think we can annex and add millions, and they apparently don't understand the place they live in. On the other hand, we must ensure a security calm here.

"I suggest that we hand the burden of proof over to the Palestinians. I, for example, don't think they want a state. They just want to be mixed into Israel and receive an Israeli identity card. Had they declared a state, the entire world would have recognized them. So why aren't they declaring? Because they don't want to.

"I suggest that they declare their state in Areas A and B, so that they are able to reach Nablus from Jenin, etc, without any trouble, and we will even tell them that they don't have to give up their demands for a right of return to the 1967 borders and Jerusalem. We will also stick to our demands and years will pass, and that way we may be able to obtain more trust. If there is a dispute between the two states, it will be a territorial dispute rather than claims of oppression and discrimination. In other words, I am hardly giving them anything and I am not demanding anything, but now they must explain to the world why they don't want a state and we will convince the world that our intentions are sincere."

In this framework, will Israel evacuate isolated settlements in order to create continuity for this state?

"No way."

Are you in favor of the Labor Party joining a national unity government?

"Consistently, and in light of the challenges facing the state, I am in favor of unity governments."

What would your father have thought about your move?

"I hope it would have made him happy."