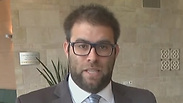 Hazan to be ousted as deputy speaker of the Knesset
After a year as Knesset deputy speaker but being blocked from overseeing a single session, MK Oren Hazan (Likud) has been voted out of the position and replaced by MK Nava Boker (Likud) ; Hazan blamed Speaker of the Knesset Yuli Edelstein for campaign against him ' based on his own whims and ego.'
Likud MKs deliberated for three hours on Monday over who will fill the position of deputy speaker of the Knesset. The position has officially been held hitherto by the party's scandal-ridden MK Oren Hazan.

Following a secret ballot vote, it was decided that Hazan would be removed from the position and would be replaced by Likud MK Nava Boker. Sixteen members voted for Hazan's removal, while nine voting against the decision.

There are currently eight deputy speakers positions of the Knesset held by MKs from several different parties. Two weeks ago, one of the Likud positions went to MK Hamad Amar (Yisrael Beytenu), as part of the deal made between his party and the Likud upon the former's inaguguration into the coalition.

Monday's vote determined that Hazan will vacate his seat for Boker, who will be serving as deputy for the first time.



The result, however, can also be interpreted as a show of defiance by the nine anonymous MKs who voted in support of Hazan, despite Prime Minister Benjamin Netanyahu's desire to promote Boker. Similarly, it can be seen as opposition to the fierce criticism leveled against Hazan by the speaker of the Knesset himself, Yuli Edeldstein (Likud).

Shorlty after the results were publicized, Hazan issued a statement saying that Edelstein had left the voting MKs with no choice other than to strip him of his deputy position. "The Knesset had already chosen me for a second one-year term as deputy speaker of the Knesset. For some reason, though, it was forced to go back on its decision after Speaker of the Knesset Yuli Edelstein threatened Bibi, telling him that he can forget about any cooperation from him or the Knesset if I were to remain deputy."

Hazan's criticisms of Edelstein escalated, with him saying, "I find it odd that the speaker of the Knesset would allow himself the liberty to terrorize the prime minister and Likud MKs based on his own whims and ego, all while disrupting the important work done at the Knesset."

"For more than a year now, I took it upon myself to be the adult here, following repeated requests from the prime minister. But this is undoubtedly an irresponsible and unprecedented situation. I am sure that Likud voters and their elected officials will settle the score with Edelstein, come voting time," Hazan continued.

Upon hearing the news of her own appointment as deputy, MK Nava Boker said, "I am confident that I will perform the job as best as possible and I know how to integrate my own personal strengths into it. I thank the prime minister and speaker of the Knesset for their support."