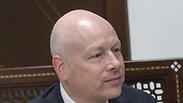 Trump envoy visits family of Hadas Malka
Trump's special envoy to the Middle East Jason Greenblatt visits the Malka family during shiva to offer condolences on behalf of the Trump administration; US statement: 'Such incidents underscore why it is vital to realize President Trump's vision of a Middle East free of the threats of terrorism and extremism.'
Jason Greenblatt, President Trump's Middle East envoy, arrived in Israel Sunday and paid a visit to the family of Hadas Malka, the border policewoman who was killed in Friday's Jerusalem twin terror attack.

A message from the US government on the visit read, "Jason Greenblatt, the president's special representative on international negotiation, visited the family of border policewoman MSgt. Hadas Malka, sitting shiva for their daughter. Malka was murdered by terrorists in an attack near the Damascus Gate in the Old City of Jerusalem. Greenblatt expressed his condolences on behalf of the Trump administration. Such incidents underscore why it is vital to realize President Trump's vision of a Middle East free of the threats of terrorism and extremism."

Greenblatt arrived in Israel on Sunday for a visit focused on meetings with Israeli and Palestinian leadership. The visit was originally supposed to take place several days ago, but the Americans decided to postpone until after Ramadan. However, the meeting was urgently rescheduled following Friday's terror attack and the controversy swirling around the Qalqilya Plan.

Apart from visiting the Malka family, Greenblatt also visited the Western Wall. On his Twitter account, Greenblatt posted, "Today at the Kotel I prayed for an end to violence and the blessing of peace."

As part of efforts to renew negotiations between Israel and the Palestinians, Jared Kushner, husband of Ivanka Trump and the president's close adviser, will arrive in Israel shortly after.