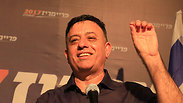 Avi Gabbay
Photo: Shaul Golan
Defying odds, Avi Gabbay crowned new Labor Party leader
In final runoff stage to lead the party, voters dump party veteran Amir Peretz, who clinched 47% of the vote, and back party newcomer Gabbay, who led with 52%, hoping he will succeed where his predecessor Isaac Herzog failed by marching the party to electoral victory; 'Our path will lead to a new government in Israel,' Gabbay vows.
Avi Gabbay emerged victorious over his opponent Amir Peretz in the final runoff for the Labor Party leadership Monday evening, defying the odds after party voters decided who they believed could lead them to victory over Prime Minister Benjamin Netanyahu.

Coming into the runoff, Peretz was considered a favorite to take the reins, and managed to garner the backing of key political players, including the incumbent party leader Isaac Herzog. Indeed, in the first round of primaries last week, Gabbay bagged 27% of the vote while Peretz snatched 32.7%.

But ultimately, Peretz had shot his bolt and his llustrious political career and extensive record in the Labor Party did not suffice to surpass the obstacles posed by the rising star Gabbay's more discreet popularity, manifested by a victory of 52% over Peretz's 47%.

The two went head to head in a second round of primaries after it was announced last Tuesday they had defeated their opponents and delivered a decisive blow to Isaac Herzog after four years of heading the opposition.

Addressing his party shortly after the news broke, Gabbay told a jubilant audience that he did present a viable alternative to Netanyahu's government. "To all those who mourned the Labor Party as not being an alternative to the government, to all the citizens of Israel who lost the hope for change—the answer is tonight," Gabbay said in his victory speech in Tel Aviv.

"Our path is going to lead us to a new administration in Israel...I call on citizens of Israel to join me."

Gabbay's victory will, to some extent, serve as a first litmus test on whether he intends to keep his word after last week saying that Herzog was not obliged to vacate the leadership for either him or Peretz regardless of Monday's results. "Herzog was elected with 24 seats and there is no obligation to replace him," Gabbay said.

Nevertheless, his comments were made before Herzog officially declared that he would be backing his opponent.

Political deals and decisions notwithstanding, the voters' decision undoubtedly illustrates a desire to see fresh blood pumped into what has become a moribund, unanimated party, almost entirely bereft of charisma which has proved incapable of inspiring the Israeli electorate since Ehud Barak left office in 2001 and has repeatedly been beset by Likud victories.

Barak was one of the first to come out in support of Gabbay and after the results were announced, he hailed his victory as a "revolution" before saying that "Bibi (Netanyahu) is sweating, and rightly so."

With Gabbay's ascent, voters hope he will present a sufficiently formidable threat to remove the seemingly politically invincible Netanyahu—the longest-serving prime minister in Israeli history—in the next general elections in 2019.

Following the announcement of the results, Peretz congratulated Gabbay on his win, saying he and his supporters "will stand beside him and help him bring the Labor Party back to power." Thanking him, Gabbay tolde Peretz that he sees him as a "key partner in replacing Netanyahu."

MK Shelly Yachimovich also expressed her delight with Gabbay's win. "Avi Gabbay's victory is an amazing and exciting achievement. This is a testament to the fact that our party is eager for life, wisdom and democracy and can serve as a model for the Israeli political system," she wrote on her Facebook page.

"It is our privilege to have a chairman that is free of corruption, courageous and extraordinarily skillful, and tomorrow we will wake up to a morning full of hope. Thank you all, you are wonderful."
Who is Gabbay?
Born shortly before the outbreak of the 1967 Six-Day War, Gabbay grew up in the Baka neighborhood of Jerusalem. He served as an officer in the IDF's Intelligence Corps after which he completed a degree in Economics and a second degree in Business Administration at the Hebrew University in Jerusalem.
In 2003, Gabbay was appointed to manage the telecommunications giant Bezeq International, a post over which he presided for four years.
It was only in 2014 that Gabbay, together with Moshe Kahlon, decided to form the Kulanu party after which he was appointed to serve as the environmental protection minister in Netanyahu's government.
During his tenure, he promoted the "Bags Law" requiring customers to purchase plastic bags at supermarkets, worked to remove the ammonia tank from the Haifa Bay and also to reduce the emission of pollutants from the Israel Electic Corporation's power plants.
In 2016, he made a surprise announcement that he intended to resign from his ministerial position in protest over the appointment of Avigdor Lieberman (Yisrael Beytenu) to the position of defense minister.
It was only in December that the man, who would eventually deprive the political veteran Peretz of the leadership, announced his intention to enter the Labor Party and throw his hat into the ring for the leadership race.