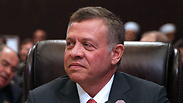 King Abdullah of Jordan
Photo: AFP
King Abdullah to visit PA in Ramallah
Against the backdrop of the Israel embassy guard affair and the Temple Mount crisis, King Abdullah II of Jordan is expected to arrive at the Palestinian Authority for the first time in five years—and show his political support of PA President Mahmoud Abbas, who severed relations with Israel.
Advanced contacts are underway for King Abdullah of Jordan to arrive in Ramallah next week for an official visit.

In the short visit, which is expected to last several hours, Abdullah is expected to meet Palestinian Authority President Mahmoud Abbas in his Ramallah compound.

For now, it appears that the visit will take place on Monday, but no decision has yet been made. The King's last visit to the Palestinian territories took place five years ago.

The timing of the expected visit is as important as the visit itself.

Abdullah's arrival at the present time is expected to give Abbas political support in a time when relations between Israel and the PA deteriorated due to Abbas' decision to sever ties with Israel, including security coordination.

The fact that Abdullah will arrive in Ramallah shortly after the incident in Amman—in which an Israeli security guard shot two Jordanian civilians—and after the Temple Mount crisis, two events that brought Israel-Jordan relations to a record low, constitutes a clear and meaningful statement to Israel.

In addition, the visit was held against the backdrop of increasing pessimism in the Palestinian Authority regarding the ability of the Trump administration to restart the political process between Israel and the Palestinians, despite the cautious optimism registered during the first months of the US president's tenure.

A few days ago it was leaked that Trump's son-in-law and his senior adviser Jared Kushner said in a closed conversation that there may be no solution to the conflict in the Middle East.

At the same time, senior PLO official Saeb Erekat attacked the US administration for not supporting the two-state solution, and denounced Washington's tolerance for Israel's continued settlement construction.