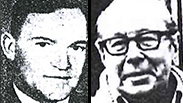 Schumann and Rauff. Two of the Nazi criminals who escaped the long arm of the Mossad
List exposed: The Nazis who got away from the Mossad
One of Eichmann's assistants survived two letter bombs, gas van's inventor was saved thanks to a woman and a dog, and operation to track down Gestapo chief was a total failure. Israeli secret service's activity against Nazi war criminals lasted more than 30 years, but produced very poor results. Three new books reveal full list of Nazis targeted by Mossad, most of whom escaped unharmed.
Adolf Eichmann's capture in Argentina in 1960 was the highlight of the Mossad's activity against Nazi war criminals. This activity lasted more than 30 years, but produced very poor results.

Three books written by researcher Yossi Chen (Chinitz), which were printed as confidential studies 10 years ago and were fully uncovered to the public last week in the Yad Vashem Archive, reveal the list of Nazis targeted by the Mossad for the first time. Most of them, however, escaped unharmed. The list is topped by "the doctor from Auschwitz," Josef Mengele, whose hiding place was unknown.

In 1963, after legendary Mossad chief Isser Harel resigned and was replaced by Meir Amit, the department in charge of monitoring anti-Semitic and neo-Nazi organizations and individuals was asked to prepare a list of Nazi war criminals which had to be "dealt with."

The list was prepared following unprecedented administrative work conducted by the Amal department. At first, it included names of famous Nazi war criminals who had taken part in the annihilation of the Jewish people as well as the less known criminals who had carried out the murders themselves.

"There were two criteria, the extent of the horror and the access to the criminal," explained Yehudit Nessyahu, who oversaw the research and collection of information at Amal at the time. She prepared the list together with Rafi Meidan, who was in charge of the department.

In addition to Dr. Mengele, the list included Herberts Cukurs, one of the people responsible for the murder of Latvia's Jews. Cukurs, the "Butcher of Riga," was the only Nazi criminal who was actually assassinated by the Mossad, in 1965. Here are the names of the other Nazi criminals included on the list and the lists that followed, who managed to escape the long arm of the Mossad and died later on.
Horst Schumann: Followed by the 'parasitologists'
Schumann, one of Mengele's helpers, conducted sterilization and castration experiments at Auschwitz. Allegedly, he was supposed to be saving lives, but he was actually involved in murdering people after torturing them. He carried out all his experiments on living prisoners, mostly Jews, and was known for the cruelty of his experiments on young Jewish women from Greece. Those who didn't die during the experiment, yet suffered greatly, were sent to the crematorium. Those who survived the crematorium remained disabled for life.

A random purchase of a shotgun helped locate him in Germany and an arrest warrant was issued against him, but he managed to flee to Africa. The Mossad began following him and looked into the possibility of assassinating him in Ghana, after an initial attempt to extradite him to Germany had failed. Three Mossad workers were sent on a preliminary tour to locate him, disguised as the escorts of an Israeli researcher of parasitic plants.

The tour led them to the conclusion that there would be an operational difficulty assassinating him in his hiding place due to problems in the escape routes. They invested their efforts, therefore, in assisting in his extradition to Germany. Schumann was handed over and put on trial, but like other Nazi war criminals who were prosecuted in Germany, he received a very lenient sentence—only seven months in prison.

In the early 1980s, the Mossad's intelligence on Schumann found him living in Frankfurt, but organization officials decided that executing the operation would "remain a low priority due to our activity in Europe." According to Chen, the study's author, this served as proof that punishing Nazi war criminals wasn't a top priority. As a result, Schumann wasn't punished. Four years later, in 1983, he died of cancer as a free man.
Alois Brunner: Survived two letter bombs
Austrian-born Brunner was one of Adolf Eichmann's assistants. In February 1943, he was sent to Thessaloniki, Greece, where he oversaw the confiscation of Jewish property and the deportation of 46,000 Jews to concentration and death camps. He was also in charge of sending Macedonia's Jews to the concentration camps. Four months later, he was stationed in France, where he assumed a similar role. In 1944, he deported Slovakia's Jews to the death camps.

A report on Brunner's last years in Syria

Unlike most Nazi war criminals, Brunner didn't escape to South America after the war, but rather to the Middle East. The Mossad began following him in the early 1960s, when it discovered that he was hiding in Syria, where he took the pseudonym of Dr. Georg Fischer. Yitzhak Shamir, who went on to become Israel's prime minister, was put in charge of planning the operation for his assassination. N., who was selected by Shamir to carry out the mission, arrived in Damascus in 1961 through Beirut. He managed to locate Brunner and even reach his apartment and talk to him.

"The Nazi himself opened the door and stood right in front of him," Shamir recalled excitedly 40 years later in a conversation with the author, Yossi Chen, a Mossad man and former Holocaust survivor himself. The second and decisive stage of the operation, however, ended with partial success. N. sent Brunner a letter bomb, which exploded in his hands. His eyes were hurt, but he survived.

For the next 19 years, Brunner lived relatively peacefully in Damascus, until he was wounded again in an attempted assassination carried out by the Mossad. In 1980, the Nazi criminal received a letter from a medicinal plants association from Austria. This time his fingers were hurt, but he survived this second assassination too. He eventually died in Damascus at a very old age.
Martin Bormann: Chasing a ghost
Bormann was Adolf Hitler's bureau chief. Three days after Kristallnacht (The Night of Broken Glass), he signed the order given to Herman Göring—on Hitler's behalf—to start implementing the "Final Solution" in Germany. In 1943, he was appointed Hitler's stand-in and served as a sort of private secretary to the Führer who had a great amount of influence on Him.

He disappeared without leaving a trace on May 2, 1945, and there were various theories about the cause of his death. Some said he poisoned himself to death, whereas others said he was killed while trying to escape. In 1950, Germany issued a certificate confirming his death, but the doubts remained.

The Mossad wasn't sure if he was alive or dead either, and relied on unreliable testimonies, rumors and unclear bits of information in an attempt to locate Bormann, who had likely died years earlier. The Mossad was basically chasing a ghost.
Heinrich Müller: Searching for 'Cosine'
Eichmann and Mengele are two of the most famous Nazi criminals. Müller was their commander. The chief of the Gestapo, who was referred to as "Cosine," was one of the highest-ranking officials directly responsible for the murder of six million Jews. In 1940, Müller ordered Eichmann to create ghettos across Poland and deport the Jews there. Two years later, he attended the Wannsee Conference, which issued the official approval to physically exterminate Europe's Jews. The Gestapo was tasked with the execution of most of the plan.

Like in Bormann's case, it's unclear how Müller died. According to unconfirmed reports, he was killed in a Russian bombing in Berlin and buried very fast. These reports were backed by the discovery of a gravestone with his name on it. According to other unreliable reports, he escaped to Egypt or South America.

After being brought to Israel, Eichmann was interrogated about Müller many times. His first response was: "Müller is not alive." He believed his former commander had committed suicide.

The Mossad, however, launched different operations to track him down. The biggest failure was an operation named "Cosine's Wife," in which two Mossad agents were arrested in Munich while trying to watch Müller's wife. The Mossad reached Panama too, after suspecting that a man named Keith was actually Müller. He was arrested but later released, after fingerprints proved he wasn't the Nazi criminal.

There is no definite answer whether Müller was alive after 1945, but all signs indicate that was the year he died.
Hans Eisele: The messenger died, the criminal survived
Thirteen years after the initial list was published, the body of Herberts Cukurs was found in an isolated villa near Uruguay's capital, Montevideo. Cukurs was one of the only Nazi criminals targeted by the Mossad who ended his life that way.

A new list of Nazi criminals was submitted in early 1967 to Shalom Shefi, who was appointed head of the Bitzur department, which was put in charge of the Amal department. Cukurs' name was left out of the list of course, but the names of Hans Eisele and Franz Stangl were added.

Eisele was a physician who conducted experiments on prisoners in the Buchenwald camp. He was tried in the Dachau main trial and the Buchenwald main trial and sentenced to death, but was eventually released from prison after just seven years. Later on, he fled to Egypt and opened a clinic. The Mossad reportedly tried to assassinate him, but the package bomb killed the messenger and Eisele was unhurt. The Nazi criminal died in Cairo in 1967. The cause of death is unclear.
Franz Stangl: Extradited from Brazil and died in jail
Stangl, the deputy commandant of the Treblinka extermination camp and the commandant of Sobibor, was added to the list of targets together with Eisele in 1967. He was responsible for the murder of 700,000 Jews, including some 300,000 Jews from the Warsaw Ghetto.

He was arrested in Austria after the war but managed to escape—first to Italy and then to Syria (with the help of a Catholic bishop who was later forced to resign from the Vatican), where he worked as a weaver.

He later immigrated to Brazil, but was tracked down in 1967 by Nazi hunter Simon Wiesenthal. Four European governments (Austria, West Germany, Poland and Holland) sought his extradition, and he was handed over to Germany and sentenced to life in prison. Half a year later, in 1971, he died in jail.
Walter Rauff: Saved by the dog
In May 1977, after the political upheaval, Prime Minister Menachem Begin met with Mossad Director Yitzhak Hofi and asked him to include "dealing with" Nazi criminals in the organization's missions. For the first time since the state's establishment, the Israeli government made an official decision on "dealing with" Nazi war criminals. The security cabinet "ordered the Mossad to resume the search for Nazi war criminals, and especially Mengele, in a bid to bring them to trial in Israel. If it's impossible to bring them to trial, they should be killed."

Following the decision, the Amal department was tasked with the old-new mission, and a new list of Nazi criminals was prepared. The names Mengele, Müller, Schumann, Brunner and Stangl were taken from the old list. Shortly afterwards, it turned out that Stangl and Bormann were likely no longer alive. Seven new names of Nazi criminals were added to the list, including Rauff.

Rauff was the one who invented the van that was used for gassing. It was a mobile chamber with an air-tight compartment, into which exhaust fumes were transmitted. The victims were gassed with carbon monoxide, resulting in death. The mobile gas chambers, which were disguised as ambulances, came several years before the gas furnaces that were later installed in death camps.

Like other Nazi criminals, Rauff also escaped after the war. First, he went to Syria, then to Italy, later to Ecuador and finally to the southern city of Punta Arenas in Chile. In the late 1940s, he met with Shalhevet Frier, who went on to become one of Israel's top security officials, and was operated for a short while as an Israeli source. He got money for delivering news. Frier knew he was an SS officer, but didn't know that he was the person who had invented the extermination vehicle. Israel basically helped a senior Nazi instead of arresting and maybe even assassinating him.

In 1979, the Mossad decided to try to assassinate Rauff in Chile, in a combined operation that would include the assassination of another Nazi criminal, Klaus Barbie, in Bolivia. Dozens of people were involved in the preparations, but Barbie wasn't tracked down and it was decided that Rauff would be assassinated with gunshots by a crew waiting near his house.

Mossad chief Hofi arrived in Chile with the head of the Masada unit, Shabtai Shavit, who was later appointed Mossad director himself. The potential assassins were already near his home, but failed to identify him on the first evening. On the second evening, a woman living with him came out of the house and started screaming at them to leave the property, while a dog barked loudly in the background. The mission was interrupted, and Rauff escaped unharmed without ever paying for his crimes. He died in 1984 of lung cancer.
Klaus Barbie: Bolivian authorities got to him first
Nikolaus (Klaus) Barbie was the real name of the Nazi criminal known as the "Butcher of Lyon." As head of the Gestapo in the big French city, he was involved in the murder of Jews even before setting foot on French soil. He deported tens of thousands of Jews from Lyon to the death camps, destroyed the Jewish children's home and oversaw their deportation to Auschwitz and murdered many others. He was sentenced to death in absentia for his brutal actions by the French authorities.

In an outrageous move, Barbie was recruited by the US Army Counterintelligence Corps (CIC) after the war. Even when he was no longer used as a source, the Americans refused to extradite him to France, falsely claiming that they were unable to track him down. They helped him flee to South America, and he lived under the alias Klaus Altmann in Bolivia.

After the failed attempt to assassinate him in 1980, the Mossad resumed its efforts later on. In 1983, Masada head Shabtai Shavit flew to Bolivia, received updates from the team and even followed Barbie himself. The assassination was supposed to take place immediately after all the intelligence was collected, but then the Bolivian authorities arrested Barbie, who was extradited to France and jailed in Lyon, the city where he committed his brutal crimes. He was sentenced to life imprisonment and died of cancer in jail in 1991.
Franz Murer: Intelligence didn't lead to assassination
The Austrian-born Murer, who was included on the list of targets in 1977, was one of the murderers of Lithuania's Jews. He was in charge of the food department at the Vilna Ghetto and of the ghetto itself. According to the global press, he "starved the Jewish population in the ghetto and deprived it of any regular supply of food." He was also said to have "murdered every Jew who had returned from forced labor and tried to smuggle in bread."

After the war, Murer was sentenced in the Soviet Union to 25 years in prison, but was released after only six years. He was later arrested ibn Austria thanks to Wiesenthal's activity, but was shockingly acquitted in his trial. In 1979, after collecting intelligence, sending Mossad fighters to a travel agency and booking rooms in Murer's farm in Gaishorn am See in Austria, the organization decided to assassinate the Nazi criminal.

A one-week stay at the farm generated perfect intelligence, which included information about every possible detail—from the cows' location to the dog, but the assassination operation was never executed. In 1994, Murer died in his home at the age of 82 as a free man.
Franz Rademacher: Mossad didn't know he died
Rademacher was head of the Jewish desk at the German foreign affairs ministry and one of the participants of the Wannsee Conference. In 1940, he initiated the Madagascar Plan to relocate the Jews to the African island. A year later, he was responsible for the deportation and extermination of Serbia's Jews and was also involved in the deportation of Jews from France, Belgium and Holland. After returning from a visit to Serbia he noted that the "purpose of the trip" was "to exterminate Jews in Belgrade."

After the war, Rademacher fled to Syria. Israeli spy Eli Cohen reportedly met him and handed him a letter bomb in a failed attempt to assassinate him. He was arrested for espionage in 1963, was released due to poor health and returned to Germany, where he had already been tried in absentia in the past.

He was put on trial again and sentenced to five and a half years in prison, but his sentence was never carried out as the court strangely considered it already served. In 1971, a German high court overruled this judgment and ordered a new trial, but he died two years later as a free man before proceedings began. The Mossad, which was apparently unaware of his death, included him on its list of targets in 1977, learning that he was no longer alive only two years later.
Ernst Lerch: Murdered Jews in Lublin Forest
Lerch, an Austrian citizen, served as commander of the Lublin police during the Holocaust. In this position, he was involved in the elimination of Poland's Jewry and, like other Nazis, personally fired at Jews and murdered them in the Lublin Forest.

After the war, he was arrested by the Austrians, sent to two years in prison and immediately released. He was arrested again more than 20 years later, but didn't serve any time in this instance either.

The Mossad got involved in 1978, a year after Begin's order to act against Nazi criminals. Lerch was included on the list, but his case wasn't made a top priority. Nevertheless, the organization prepared a plan to assassinate him in Klagenfurt, Austria, taking advantage of the fact that he lived next to Murer. But nothing came out of the plan and of the collected intelligence, and he died in 1997 at the age of 83
Kurt Werner Lischka: Early release from jail
Lischka, an SS officer of Polish descent, was the Gestapo chief in Paris during World War II. He was responsible for the deportation of 76,000 Jews to death camps. In March 1971, after Israeli television aired a program about Nazi criminals living peacefully in Germany, French journalist Beate Klarsfeld planned an operation to kidnap him to France. The operation failed, but his case was brought to the public's attention and protests were launched calling for his prosecution.

In 1978, a year after he was included on the Mossad's list of targets, Lischka was indicted in Germany. A German court sentenced him to 10 years in prison, but his sentence was later cut short. He was released from jail after seven years and died in 1989 at the age of 79, four years after his early release.
Karl Streibel: Acquitted of any wrongdoing
Streibel was the second and last commander of the Trawniki concentration camp, which also served as a transit camp to death. The Trawniki men took part in Operation Reinhard, the Nazi plan to exterminate Polish and foreign Jews, and murdered Jews in death camps and in many ghettos.

In 1944, Streibel escaped from Trawniki before the Soviets' arrival and there was no information on his whereabouts until the 1970s.

A Hamburg court acquitted him of any wrongdoing in 1976, and a year later he was added to the Mossad's target list. But like Schumann, who received immunity for living in Germany, the Mossad didn't deal with Streibel either out of fear of diplomatic trouble. He died in 1986 at the age of 83.
Andrija Artuković: 'Himmler of Balkans' fled to US
Artuković, who was known as "Himmler of the Balkans," held the Interior portfolio in the government of the pro-Nazi Independent State of Croatia during World War II. The Croatian war criminal was a member of the fascist Ustaše organization and was responsible for the murder of Jews in the country. In one of his speeches, he said Croatia must solve "the Jewish problem" just like the Nazi government was doing.

At the end of the war, Artuković fled to the United States. He was extradited to Yugoslavia only 35 years after the initial request, in 1986. The Mossad included him on its list of targets in 1977, but his name was excluded the following year. In Yugoslavia, he was sentenced to death, but the sentence was never carried out due to poor health. He died at a Zagreb hospital in 1988. Three years later, in 1991, the Mossad terminated its activity against Nazi war criminals.