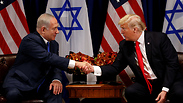 Netanyahu and Trump
Photo: Reuters
US President Donald Trump teased with a possible, pending US strike against Iran during his meeting with Prime Minister Benjamin Netanyahu at the Plaza Hotel in Manhattan Monday.

The Israeli premier similarly expressed his desire for a tougher stance vis-a-vis Iran in a bid to frustrate its ambitions to produce a nuclear weapon.

In what was their third meeting of the year, Netanyahu mentioned his aim at abandoning the current deal with Iran. One of the most vociferous opponents of the deal, which was signed under Barack Obama's leadership, Netanyahu has in the past delineated what he believes should be the West's clear red lines on the issue.

Trump and Netanyahu meet (צילום: רויטרס)

"I look forward to discussing with you how we can address together what you rightly called is the terrible nuclear deal with Iran and how to roll back Iran's growing aggression in the region, especially in Syria," Netanyahu told Trump.

Recently, Netanyahu has also expressed grave concern at Tehran's attempts to spread its influence throughout the Middle East, and particularly to Syria and along Israel's northern border.

Netanyahu also noted Israel was seeking peace with the Palestinians and the Arab world in general, a goal that is encouraged by the US. Trump is also to meet Palestinian President Mahmoud Abbas later this week.

"As you said, we will discuss the way we can seize the opportunity for peace between Israel and the Palestinians and between Israel and the Arab world, I think these things go together and we look forward to talking about how we can advance both," added Netanyahu.

Trump agreed with him, saying that they "are giving it an absolute go," and that "we're working very hard" to reach a deal between Israel and the Palestinian Authority.

Trump has described peace between Israelis and Palestinians as "the ultimate deal."

"Peace between the Palestinians and Israel would be a fantastic achievement, and we are giving it an absolute go. I think there's a good chance that it could happen. Most people would say 'there's no chance whatsoever," Trump said. "I think Israel would like to see it. I think the Palestinians would like to see it. I can tell you the Trump administration would like to see it. So we're working very hard on it. We'll see what happens. Historically, people say it can't happen. I say it can happen."

Netanyahu stressed that Israel's alliance with the United States is stronger than ever under the Trump administration.

"Under your leadership, the alliance between America and Israel has never been stronger, never been deeper. I can say this in ways in people see and in ways that they don't see. So I want to thank you for that."

Netanyahu added that as Wedensday is to be the Jewish New Year, "I want to wish you, the Jewish community of America, Jews everywhere, people everywhere, Shana Tova, Happy Healthy New Year. Thank you, Mr. President."

Trump, who throughout his campaign trail declared his intentions to rip up the US-led deal with Iran, has until October 15 to make a decision on whether to continue on the current path, requiring that he sign a document attesting to Iran's acquiescence with the agreement, or steer a different course.

On Monday, Trump warned that Washington will walk away from a nuclear deal if it deems that the International Atomic Energy Agency is not tough enough in monitoring it.

US national security adviser H.R. McMaster said the conversations would be wide-ranging, but that "Iran's destabilizing behavior" would be a major focus of Trump's dseparate discussions with Netanyahu and French President Emmanuel Macron.

"We will not accept a weakly enforced or inadequately monitored deal," US Energy Secretary Rick Perry told the IAEA General Conference, an annual meeting of the agency's member states that began on Monday.

He did not say whether he thought the deal was currently weakly enforced.

"The United States ... strongly encourages the IAEA to exercise its full authorities to verify Iran's adherence to each and every nuclear-related commitment under the JCPOA," Perry added, referring to the deal by its official name—the Joint Comprehensive Plan of Action.

Jerusalem however, is hopeful that the president will augment the agreement with a series of clauses designed to bolster scrutiny against Iran.

"I am sure he will call for reforms," said UN Ambassador Danny Danon on Sunday."From our point of view, the deal is a bad one. We have always said that. It is still a bad deal and leaving the status quo is not possible."

On Tuesday, Netanyahu will ascend the podium in the UN General Assembly and address world leaders at 1pm EST (8pm Israel time) where he is also expected to focus, as he did in the last few years, on Iran.

In preparation for his UN address, Netanyahu and his advisory team are considering a number of gimmicks he could employ in an effort to ensure that his speech makes international headlines.

Last year, Netanyahu rebuked the international community for its apparent silence on Iran's genocidal rhetoric against the Jewish state.

"Seventy years after the murder of 6 million Jews Iran's rulers promise to destroy my country, murder my people and the response from this body … has been absolutely nothing. Utter silence. Deafening silence,"Netanyahu stated emphatically before staring at the the leaders in the hall during a 45-second silent pause.