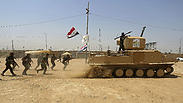 Volunteer fighters from the Imam Ali Brigade
Photo: AP
Iran extends reach with fight for land link to Mediterranean
Iranian-backed militants slowly overtaking land in Syria's central desert region in effort to link Tehran to the Mediterranean and facilitate movement of Iranian-backed fighters between Iran, Iraq, Syria and Lebanon, as well as flow of weapons to Damascus and Lebanon's Hezbollah.
Thousands of Iranian-backed fighters in Syria's central desert region are advancing east, bringing Tehran closer to its goal of securing a corridor from its border, through Iraq and all the way to the Mediterranean and providing it unhindered land access to its allies in Syria and Lebanon for the first time.

The land-route would be the biggest prize yet for Iran in its involvement in Syria's six-year-old civil war.

It would facilitate movement of Iranian-backed fighters between Iran, Iraq, Syria and Lebanon as well as the flow of weapons to Damascus and Lebanon's Hezbollah, Iran's main proxy group. It also positions Iran to play a prime and lucrative role in what is expected to be a massive rebuilding effort in both Iraq and Syria, which have been devastated in their ongoing wars.

The potential for a physical artery for Iran's influence across the region is raising concern in predominantly Sunni Arab countries and in Israel, the nemesis of both Iran and Hezbollah. It poses a challenge to the Trump administration, which has vowed to fight Iran's growing reach.

The route is largely being carved out by Iran's allies and proxies, a mix of forces including troops of Syrian President Bashar Assad, Hezbollah fighters and Shiite militias on both sides of the border aiming to link up. Iran also has forces of its own Revolutionary Guard directly involved in the campaign on the Syrian side.

Concerns over their advances are expected to come up when Israeli Prime Minister Benjamin Netanyahu holds talks Wednesday in the Russian resort of Sochi with President Vladimir Putin, whose country is an ally of Iran and Assad.




The talks will focus "first and foremost (on) preventing Iran's military entrenchment in Syria," David Keyes, a spokesman for Netanyahu, said.

"Iran's aggression in the region continues to grow. The regime is trying to entrench itself militarily on Israel's border. Israel cannot and will not allow this," he said. "Any cease-fire which allows Iran to establish a foothold in Syria is a danger to the entire region."

A corridor would be a boost for Israel's powerful enemy Hezbollah, which has an arsenal of tens of thousands of rockets and missiles. Iran currently ships weapons to Hezbollah mostly by flying them to Syria to be shipped on the ground to Lebanon.

Israel has warned it would do what it can to keep Iran from threatening its borders and has carried out airstrikes in Syria against suspected weapons shipments bound for Hezbollah. Israel pushed hard for a US- and Russia-brokered truce that came into effect recently in southern Syria to keep Iranian-backed militias at a distance from the Golan Heights, which Israel has controlled since 1967.

The land route is by no means a fait accompli. Any road link will likely be a frequent target by Sunni insurgent groups.

But Iran's allies are making progress on both sides of the border, taking territory from the Islamic State group.

In recent months, Syrian troops and allied militiamen have marched forward on three fronts toward areas bordering Iraq. One of their main targets is the IS-held eastern city of Deir el-Zour, where the militants have imposed a siege for years on a small government-held pocket.

Syrian troops and pro-Iranian Iraqi militiamen do already meet at one small area on the border — at the Jamouna region on the Iraqi side and Wadi al-Waer on the Syrian side. But the area is too dangerous to be used as a corridor, since militants continue to launch hit-and-run attacks.

Syrian troops reached another part of the border in June, but much of the adjacent territory on the Iraqi side is still IS-held.

Inside Iraq, Iranian-backed Shiite militiamen are gaining more influence in predominantly Sunni areas bordering Syria. Militiamen are involved in the battle to retake the Iraqi town of Tel Afar, which would boost the militias' hold on the nearby border region. The Shiite militiamen are also present in Iraq's western Anbar province bordering Syria.

"Our aim is to prevent any barriers from Iraq to Syria all the way to Beirut," said Jaafar al-Husseini of Iraq's Kataeb Hezbollah militia. "The resistance is close to achieving this goal."

Al-Husseini warned that if the Americans try to act against the advances on the Syrian side, Iraqi militiamen will target US troops in Iraq.

US-backed Syrian fighters had aimed to move up from southeastern Syria to the north through IS-held territory along the Iraqi border, an assault that would have blocked pro-Iranian forces' moves to link up. But in June, Assad's forces succeeded in reaching the border first, cutting them off. Now the American allies are preparing to try to from the other direction, moving south along the border from the northeastern province of Hassakeh, according to Syrian activists.

In addition to hundreds of members of Iran's Revolutionary Guard corps, thousands of pro-Iranian fighters are deployed in Syria and have played instrumental role in shoring up Assad's forces. They include Lebanon's Hezbollah, Afghanistan's Fatimiyoun, Pakistan Zeinabiyoun as well as Iraq's Nujbaa and Kataeb Hezbollah groups.

Iranian leaders avoid publicly speaking about their aim to link to so-called "axis of resistance," referring to Iran, Hezbollah, Syria and other anti-Israel forces. But its allies have no qualms about showing their ambition.

"The aim is for a geographical connection between Syria, Iraq and the axis of resistance," Syrian Information Minister Ramez al-Turjuman said in a TV interview.

Earlier this year, Washington helped broker a deal between the Iraqi government and Olive Green, an American private security company, to secure the highway linking Baghdad with the Jordanian border. That was seen by Iran's allies as an attempt to impede the land link.

Qais al-Khazaali, who heads the Iranian-backed Iraq militia Asaib Ahl al-Haq, warned that the Iraqi people "will not allow the return of American security companies."

The head of the Syrian Observatory for Human Rights, Rami Abdurrahman, said it is almost impossible to prevent Iran from achieving its goal, after it spent hundreds of millions of dollars and sent arms and fighters to help keep Assad in power.

"Iran's influence in Syria is unstoppable even if Bashar Assad leaves power because Iran has deep links and presence in Syria," Abdurrahman said. "Had it not been for Iran, the regime would have collapsed in 2013."