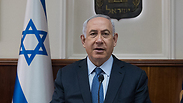 PM Netanyahu
Photo: Flash90
Netanyahu acquiesces to Trump request to delay settlement talks
Telling Security Cabinet he has no intention of humiliating friendly Trump administration over West Bank construction, ministers informed by PM of decision to postpone by 1-2 weeks talks by the West Bank Civil Administration's planning committee.
Prime Minister Benjamin Netanyahu informed ministers of the Security Cabinet Sunday evening of his decision to postpone a meeting scheduled for this week of the West Bank Civil Administration's planning committee following a request by US President Donald Trump.

Justifying his decision to hold off on the meeting by a week or two, which is likely to startle the pro-settlement elements in his coalition, the prime minister told the ministers present he had no intention of humiliating the pro-Israel Trump administration by making decisions relating to settlements, particularly in light of the upcoming visit to the Middle East by Trump's special advisor Jason Greenblatt.

During the long Cabinet discussions Netanyahu apprised the ministers of the recent talks he had held with Trump, Egypt's President Abdel Fatah al-Sisi and other leaders on the sidelines of the annual UN General Assembly gathering in New York last week.

Regarding the Iranian nuclear deal, which was the centerpiece of Netanyahu's UN speech, the ministers were informed that the Americans fully understand Israeli concerns and are considering, together with Israel, various possibilities that could improve the agreement and intensify sanctions against Tehran.

While a final decision has yet to be reached on issue, Netanyahu said that Washington and Jerusalem would continue to be in contact to discuss how to proceed.

Despite rising tensions between the US and North Korea, particularly given Trump's UN speech during which he threatened to "totally destroy North Korea" if his country had no choice, Netanyahu told his ministers that no immediate fallout has been caused that could directly affect Israel.

Most of the talks however were dedicated to the Palestinian issue, with the prime minister outlining the details of an American request to establish an industrial area near the West Bank city of Tulkarm and to pave a road in the Rawabi area near Ramallah for the Palestinians.

Greenblatt is scheduled to arrive in the region on Tuesday in order to keep up the momentum on the ongoing efforts to forge peace as the administration gears up to hold negotiations between Israel and the Palestinians.