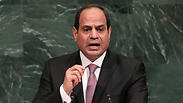 President Abdel Fatah al-Sisi
Photo: AFP
Egyptian President Abdel Fatah al-Sisi called on Israeli citizens to support their current leadership as it works to advance peace during his address to the UN General Assembly Tuesday, telling them that the opportunity for peace in the region may not again arise.

"I turn to the people of Israel to say that we have in Egypt great and extensive experience on peace with you for 40 years," al-Sisi said in reference to the 1979 peace treaty signed between Israel and Egypt.

"We can repeat this wonderful process once again," he stated optimistically, before warning that the rare opportunity to forge peace must not be missed.

"I call on you to stand behind your political leadership and support it. Do not hesitate," al-Sisi continued. "We are all with you to successfully bring about this process. This opportunity may not return again."

Beginning his speech on the podium an hour after Prime Minister Benjamin Netanyahu delivered his remarks in which he lauded the Egyptian president as "courageous", al-Sisi called upon the Palestinians to unite as one people and rally behind the cause of peace and coexistence.

"My first call is to the Palestinian people. I say to them that it is extremely important to unite behind the goal, not to be divided and not to miss the opportunity," al-Sisi declared.

Palestinians, he added, need "to be ready to agree to coexistence with others, with Israelis, in peace and security, in order to achieve peace and stability for everyone."

Al-Sisi remarks came on the heel of discussions with Netanyahu in New York just two days prior in what was their first public meeting since al-Sisi took office in 2014. The two have already had secret meetings and maintain close ties.

The Egyptian leader has been closely involved in brokering a reconciliation deal between Mahmoud Abbas's Palestinian Authority and the terror group Hamas in Gaza to relinquish control of the strip.

On Tuesday, Hamas invited Palestinian President Mahmoud Abbas to send officials to Gaza to resume control of the coastal enclave the Islamic militant group seized a decade ago.

The invitation was announced upon the return of Hamas leader Ismail Haniyeh from a visit to Cairo.

"We extend a clear and frank invitation without obstacles for the consensus government to work in Gaza," Haniyeh said after his trip, where he and other Hamas leaders held rare talks with Egyptian officials.