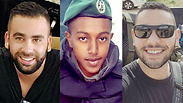 (L-R) Or Arish, Solomon Gavriya and Youssef Ottman
'I can't believe this,' cries out brother of slain security guard
Staff Sergeant Solomon Gavriya was wounded in a stabbing attack a year ago but insisted on returning to service; security guard Youssef Ottman kept watch for both residents and laborers in Har Adar; Arish took an extra shift to save money for school. These are the stories of the Har Adar attack victims.
In October 2016, Staff Sergeant Solomon Gavriya suffered minor wounds in a stabbing attack near Mevaseret Zion. A year later, he was on the scene of the Tuesday terrorist attack in Har Adar, where he was fatally shot by Nimer Jamal along with two other security personnel stationed there.

The two other casualties in the attack were civilian security guards Youssef Ottman, 24, of Abu Ghosh and Or Arish, 25, of Har Adar.

Dozens congregated near the Gavriya family home in Be'er Yaakov to express their condolences to the family.

"He was wounded in the (previous) attack, recuperated and was back on track. He was injured in the neck, but demanded to return to his friends. We never got to see him return to civilian life," said Baruch Bugla, one of the leaders of the city's Ethiopian community

"He grew up in the city and was an extraordinarily apt pupil. He had a huge heart and was his parents' firstborn child, and brother to a sister who's also a soldier and two little brothers. What happened today is both our fate and policy. We're willing to pay the price," he affirmed.

Sarah Adamsu, a friend of the family who had known Gavriya since he was a child, also spoke about him. "He was a special boy, and I could tell you so much about him, but it's just too difficult. I know the family, we're friends, and I grew up with his brothers and know him very well too. His family is humble and special. You could write books about it. His father brought his little brother to the daycare center where I worked, and as soon as we got word of the attack I just ran out. After the first attack, his family begged him not to go back, but he loved the service and it was in his blood," she said.

The head of the Be'er Yaakov Council, Nissim Gozlan, talked about Gavriya as well. "He was injured in a terrorist attack in Jerusalem's Seam Zone just a year ago, but insisted on going back to the Border Police to defend the country only two months later. He was the salt of the earth, a true patriot," he recounted.

The commander of the company Gavriya served in, Superintendent Moshe Davush, arrived at the family's home to pay his respects. "We were conducting routine security measures in Har Adar. The team (at the checkpoint) recognized something off about the suspect, who then produced a gun and fired. Unfortunately, one of my soldiers was killed along with two security guards. What aroused suspicion initially was the terrorist was wearing a jacket and acting oddly," he elaborated on the incident.

"The Border Police has a wonderful array supporting our troops on the ground, who tirelessly carry on their work and will receive all of the support to continue doing so. I'm here at the family's home to support them. (Gavriya) served under me for 18 months and was an exemplary combat soldier who was extremely modest. Only a year ago, he prevented harm from coming to Jerusalem residents by stopping a terrorist attack with his bare hands. Despite his injuries, he insisted on returning to a combat role in the Jerusalem area," he added.
'It's time to make peace'
The attack also claimed the life of Youssef Ottman. Ottman's cousin was murdered in a 1997 terrorist attack in Jerusalem's Mahane Yehuda Market. Issam Ottman, Youssef's father, said his son was familiar with the terrorist who took his life.

"He would always help people without hesitation. The person who murdered him is not a human being," he said.

"Youssef held that security detail by himself. Just as he kept watch for the residents of Har Adar, he kept a watchful eye on the laborers working there. He was a combat soldier and was discharged with distinction. I wouldn't wish this on any father, on any man who brought his children up to choose life," he lamented.

One of Ottman's relatives chose to attack the Palestinian government in Ramallah. "I blame the Palestinian Authority, which doesn't want peace with Israel. The citizens end up paying the price. It's time to make peace so we can live safe, comfortable lives," he demanded.
'Everybody loved Or'
Family and friends gathered at the Arish family home, and found it difficult to come to term with the news. "He should have worked the evening shift, but requested a morning shift as well so he could save up enough money for school," said a neighbor leaving the family home.

"His mother is crying and is in total disbelief. She cried out that she was about to bury her son. The father is completely shattered. He spoke to him just last night," she added.

As Arish's younger brother left the family home on Tuesday, he was crying and yelling "I can't believe this" into his phone.

Yaakov Hayun, Or's uncle, eulogized him. "He was a special boy. Served in the paratroopers. After his release, we tried finding a direction for him in life and he started a security course and started working in the field several months ago. He was a charming boy everyone loved," he said of his murdered nephew.

Avi, Or's best friend, texted Or's sister Lital. "Where are you? Give me an update," he asked her.

A few minutes later, Lital replied with only a word: "(he was) Killed."

Itay Blumenthal, Hassan Shaalan, Elisha Ben Kimon and Yishai Porat contributed to this report.