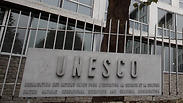 UNESCO headquarters
Photo: AP
When Israel's envoy told UNESCO delegates last July that fixing the plumbing in his toilet was more important than their latest ruling, it highlighted how fractious geopolitics are paralyzing the workings of the agency.

Whoever wins the race to replace Irina Bokova as head of the UN's cultural and education body next week will have to try to restore the relevance of an agency born from the ashes of World War Two but increasingly hobbled by regional rivalries and a lack of money.

Its triumphs include designating world heritage sites such as the Galapagos Islands and the historic tombs of Timbuktu—re-built by UNESCO after Islamist militants destroyed them.




But in a sign of how toxic relations have become, Israeli Prime Minister Benjamin Netanyahu told world leaders at the UN General Assembly last month that UNESCO was promoting "fake history".

Like Israel's plain-speaking envoy Carmel Shama Hacohen, Netanyahu was referring to UNESCO's designation of Hebron and the two adjoined shrines at its heart—the Jewish Tomb of the Patriarchs and the Muslim Ibrahimi Mosque—as a "Palestinian World Heritage Site in Danger."

Jews believe the Cave of the Patriarchs is where Abraham, Isaac and Jacob and their wives, are buried. Muslims, who, like Christians, also revere Abraham, built the Ibrahimi mosque, also known as the Sanctuary of Abraham, in the 14th century.

Israeli-Palestinian hostilities, though, are only part of a minefield of contentious issues on which the UN body has to hand down rulings.

Japan, for example, threatened to withhold its 2016 dues after UNESCO included documents submitted by China on the 1937 Nanjing Massacre in its "Memory of the World" program.

The Paris-based organization, which also promotes global education and supports press freedom, convenes its executive council on Oct. 9 to begin voting on seven candidates.

Azerbaijan, China, Egypt, France, Lebanon, Qatar and Vietnam have put forward candidates. There is no clear frontrunner.

UNESCO's struggles worsened in 2011, when the United States canceled its substantial budgetary contribution in protest at a decision to grant the Palestinians full membership. UNESCO has been forced to cut programs and freeze hiring.

"It's an organization that has been swept away from its mandate to become a sounding board for clashes that happen elsewhere, and that translates into political and financial hijacking," said a former European UNESCO ambassador.
Drawing lots
All the candidates have vowed a grassroots overhaul and pledged independence from their home nations.

France and China, both permanent members of the UN Security Council, argue the agency needs "strong leadership, which can only come with the backing of a major power.

Chinese candidate Qian Tang has almost 25 years experience at UNESCO. His bid fits into Beijing's soft power diplomacy, though Western capitals fret about China controlling an agency that shapes internet and media policy.

Former French culture minister Audrey Azoulay carries the support of France's new young president, Emmanuel Macron. But the last minute French candidacy has drawn the ire of Arab states, notably Egypt, who believe it should be their turn.

The Arab states face their own political tests. Their three entries underscore their own disunity, something the Egyptian hopeful Moushira Khattab has indicated stymie the Arab bid.

The crisis engulfing Qatar and its Gulf Arab neighbors, who have called Doha a "high level" sponsor of terrorism, meanwhile may have hurt the chances of former Qatari culture minister Hamad bin Abdulaziz al-Kawari.

Voting takes place over a maximum five rounds. If the two finalists are level, they draw lots.