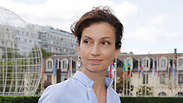 Audrey Azoulay
Photo: Reuters
While the election of Audrey Azoulay—a Jewish woman—as next leader of the UN's cultural agency was welcomed by many in Israel, it has done little to dissuade its government from following in the United States' footsteps and leaving the organization over its "anti-Israel bias."

Azoulay, formerly France's Culture Minister and a Moroccan Jew by origin, was entrusted to lead the organization after her surprise 30-28 vote win over Qatari candidate Hamad bin Abdulaziz al-Kawari.

"Prime Minister Benjamin Netanyahu has made the decision to instruct the Foreign Ministry to prepare for Israel's departure from the organization, and it does not matter who is elected CEO," commented Israel's Ambassador to UNESCO Carmel Shama-Hacohen.




"Israel's position on the organization is determined by what happened on the ground, especially the anti-Israel and anti-Jewish decisions adopted by this organization in recent years," he explained.

Azoulay is now tasked with restoring the US's trust in UNESCO and building the organization's new budget, which has taken a serious hit in recent years due to the curtailment of US money transfers following the Palestinian Authority's accession to it.

"It's heartwarming," Ambassador Shama-Hacohen said of Azoulay's election. "Her test, and it is not easy, is to change the direction of this sunken ship that has truly reached an unprecedented low, especially toward Israel. We wish her success."

But Azoulay's election, or the withdrawal of the United States, will not automatically change the organization's activities or stances.

"Now we have a heavy weapon placed on the table, we must not give it up," the ambassador added. "The pressure exerted by the withdrawal of the United States (from the organization—ed) is equivalent to the endless campaigns of the State of Israel that can run in rounds of voting.

"The US' withdrawal is a tremendous blow, leaving the entire organization in shock. The whole world campaign we did, led by the prime minister at the end, led to the American decision to withdraw, with all the implications that it entails.

"Without the United States, it's like the Champions League without the English and Spanish League. They must return the US to the organization's board, to the organization's budget, and the US cannot be brought back without real reform that eradicates politicization against Israel. Our campaign got its way."

At Sunday's cabinet meeting, Prime Minister Netanyahu commented on his decision to leave UNESCO, expressing doubt on its ability to change.

"Last week I instructed the Foreign Ministry to prepare for Israel's withdrawal from UNESCO, which has become a platform for delusional, anti-Israeli and–in effect–anti-Semitic decisions," he said. "We hope that the organization will change its ways but we are not pinning hopes on this; therefore, my directive to leave the organization stands and we will move forward to carry it out."