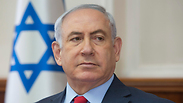 Benjamin Netanyahu
Photo: AP
Prime Minister Benjamin Netanyahu said Thursday night Israel plans to pull out of the United Nations' cultural agency following the "brave and moral" decision by the United States to withdraw from UNESCO.

Netanyahu said UNESCO has become a "theater of the absurd because instead of preserving history, it distorts it."

He has ordered Israeli diplomats to prepare Israel's withdrawal from the organization in concert with the Americans.


Israel's ambassador to the United Nations, Danny Danon, praised Washington's move as heralding "a new day at the UN, where there is a price to pay for discrimination against Israel."

"UNESCO has become a battlefield for Israel bashing and has disregarded its true role and purpose," Danon said in a statement. "The organization's absurd and shameful resolutions against Israel have consequences."

"The United States stands by Israel and is a true leader for change at the UN," he lauded, adding "the alliance between our two countries is stronger than ever."

Earlier that day, Israel's representative at UNESCO, Carmel Shama-Hacohen, backed the US' withdrawal from the body and recommended Netanyahu to follow suit.

"In recent years, UNESCO has transformed itself into an absurd organization that lost its professional path in favor of the political interests of certain countries," he said, adding that his "personal recommendation to Prime Minister Benjamin Netanyahu is to stick by the United States and immediately withdraw from UNESCO."

The United States announced on Thursday that it is pulling out of UNESCO because of what the Trump administration sees as its anti-Israel bias and a need for "fundamental reform." It says the withdrawal will take effect Dec. 31, 2018.

The United Nation's education, cultural and scientific agency has passed several resolutions against Israel. It extended membership to Palestine in 2011.