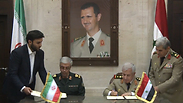 The Iranian-Syrian memorandum of understanding's signing
At the conclusion of Iranian army Chief of Staff Maj.-Gen. Mohammad Bagheri's visit to Syria, the two countries signed a memorandum of understanding Saturday in which they agreed up upgrade the cooperation and coordination between their two armies.

The Iranian-Syrian collaboration will reportedly focus mostly on training drills, an exchange of combat-centric know-how, intelligence, military technology and anything to do with the two countries' ability to combat terrorism and standing against "Zio(nist)-American schemes."

Syrian Chief of Staff Gen. Ali Abdullah Ayyoub signed the memorandum on behalf of his country.

Syrian and Iranian army chiefs of staff sign memorandum of understanding

In the past few days the Iranian chief of staff conducted a rare visit to Syria, during which he met with top Syrian government and military officials, including President Bashar al-Assad.

The visit started Wednesday, with Bagheri and his entourage touring Aleppo in northern Syria accompanied by Syrian army officers. The Iranian official also visited Sayyidah Zaynab Mosque, a site holy to Shiites on the outskirts of Damascus.

After arriving in Syria, and on the backdrop of unusual incident in which Israeli warplanes attacked a Syrian outpost after it had fired at other Israeli reconnaissance planes, Bagheri said, "It is not acceptable for the Zionist regime to violate Syria anytime it wants."  

"We are in Damascus to assert and coordinate and cooperate to confront our common enemies, the Zionists and terrorists. We drew up the broad lines for this cooperation," Bagheri clarified.

Earlier Saturday Syrian-Israeli tensions continued to rise as the IDF attacked three Syrian artillery cannons in response to errant shooting at the Golan Heights.

Five launches were identified to have landed in Israel, with four of them located, the IDF Spokesperson's Unit said.

Earlier this week, the Syrian army launched an SA-5 anti-aircraft missile at Israeli Air Force planes on a reconnaissance mission over Lebanon. In retaliation, the IAF bombed the SA-5 battery, destroying its fire control radar.

A similar incident occurred in mid-March, when the same Syrian battery fired anti-aircraft missiles at IAF jets that—according to Arab reports—were attacking strategic weapons bound for Hezbollah. One of the anti-aircraft missiles was intercepted by Israel's Arrow missile defense system.

Prime Minister Benjamin Netanyahu followed up the IDF's retaliation strike against Syria by stating, "Whoever strikes at us, we strike at them. Today they tried to harm our planes—unacceptable."

"The air force acted precisely and swiftly, destroying what needed to be destroyed. We will continue to act in the space as much as necessary to defend Israel's security."