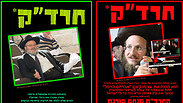 Haredim launch counter-campaign against radical IDF haters
Hitting back against radical factions opposing IDF Conscription Law by staging repeated protests and targeting IDF soldiers, moderate Haredim wage shaming campaign against prominent members, calling on public to boycott their stores; 'This is the man who kept you waiting in traffic for six hours.'
Activists belonging to the mainstream Haredi Lithuanian stream have launched a counter-campaign against members of radical Haredi groups responsible for staging disruptive protests and naming and shaming ultra-Orthodox IDF soldiers.

In the past few days, the group has adopted their tactics by publicizing the names, pictures and other details of prominent figures and businessmen belonging to the fringe movements like the Jerusalem Faction, calling on the public to boycott their businesses and thereby harm their livelihoods.

The "shaming" campaign against radicals concentrates predominantly on social media with an emphasis on radical Haredi groups.

The inspiration was drawn from a similar campaign waged by Haredi radicals who published the names, pictures and details of Haredi IDF soldiers, denouncing them as "easily influenced Haredim."

According to the counter-protesters, the radical fringe groups and their oftentimes incitement-filled campaigns are tarnishing the reputation of Haredi leaders and the mainstream factions of the ultra-Orthodox groups by dominating headlines with violent and disruptive acts.

"We all care about disgraceful disrespect shown to the dignity of Israel's contemporary rabbinical sage," it was written on one of its online placards.

"This terrible disrespect has a name and a face," it continues, accompanied by a photo of a businessman called Menachem Carmel. Underneath, it urges the public not to patronize his chain of food stores named "Bar-Kol."

Another target of their counter-shaming campaign is Avraham Menkas from the "Committee for Saving the World of Torah."

"You all waited for six hours in traffic in Jerusalem and didn't know who to be angry with. This is the man," the accompanying message reads.

His home address, together with the name of company in which his wife is employed is also published, alongside an implicit threat: "If his wife has no work, maybe he should go and work instead of blocking the roads."

Another man identified as Boaz Naki is described as the "village idiot."

Anger among many in the Haredi community has mounted in recent weeks and months after radical factions have staged repeated demonstrations against the Conscription Law.

In addition to blocking main roads, on some occasions they have engaged in violence, have burnt effigies of Haredi IDF soldiers, attacked Haredi soldiers and disseminated explicit incitment to violence against IDF soldiers.

In the latest round of protests staged by the Jerusalem Faction, a police officer was caught on camera beating an ultra-Orthodox activist during demonstrations against the IDF draft.