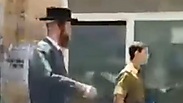 IDF soldier attacked in Mea Shearim and saved by a Haredi
When Shlomo Lipman, an IDF soldier who comes from an ultra-Orthodox family, went to buy books in Mea Shearim, he did not imagine that his life would be in danger, and that his rescuer would be none other than a Haredi who is a member of an anti-Zionist faction.

The following pictures illustrate what happens to soldiers in the ultra-Orthodox communities every day. What was once expressed by street blocking and demonstrations against the draft has recently become a general offensive against the soldiers themselves, who are perceived by extremists as "agents of change" recruited by the army to legitimize recruitment from within.

The scenes documented are reminiscent of scenes from other places, Palestinian villages and lynch attempts on nationalistic grounds. This is what happened to Lipman, a soldier in the Golani Brigade who on Friday was the target of dozens of angry Haredim who wanted to take out their anger on him, broke into the store, threatened him, and attacked him with stones.

On his escape from the store, a Haredi wearing a 'Zebra' uniform—signifying the extremist factions—named Shimon Dov Goldfarb, was waiting for him and offered to accompany him until he left the neighborhood. Later on, other Haredim escorted the soldier to safety.

Former Knesset member Rabbi Dov Lipman, the father of the Golani soldier who was attacked, called Goldfarb "an angel." "This person saved my son," he said in an interview with Ynet. "I find it hard to look at these pictures. I look at them and get angry. But I do want to focus on people like that Haredi, who are the moderates and the majority, and the need to find a way to lower the influence of these extremists."

Lipman said his son did not believe such a scenario was possible. "He thought he would be shouted at, and unfortunately this happens in Beit Shemesh too. He had not seen the videos of the last few months. He has no time for this, he serves in the IDF. "

Goldfarb himself told associates that he is afraid of being exposed to fear of what will happen to him, "and this is also something that needs to be fought," Lipman said.