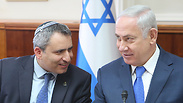 Prime Minister Netanyahu and Minister Elkin. Cabinet decision a clear victory for the Right
Photo: Alex Kolomoisky
Netanyahu's right-wing noise machine
Op-ed: The cabinet decision to nix talks with the Palestinian Authority following the Fatah-Hamas reconciliation agreement wasn't supported by an absolute majority of the ministers. If the prime minister had wanted to adopt a more moderate policy, he could have. His main concern, however, was to ensure that Bayit Yehudi leader Bennett wouldn't be perceived as more right-wing than him.
If it were up to Prime Minister Benjamin Netanyahu, the Israeli government would have let the reconciliation agreement between Fatah and Hamas pass without too much drama. A faint, laconic response, such as "we'll follow and examine," would have definitely reduced the strain on Netanyahu's energies, which are mostly dedicated at the moment to his investigations.

But Netanyahu failed to consider the fact that there is someone in his government who won't let it go: Bayit Yehudi leader Naftali Bennett, along with Likud Minister Ze'ev Elkin. The two have made it their goal to prevent a retreat from a previous cabinet meeting made in 2014.

At the time, after Operation Protective Edge, Palestinian President Mahmoud Abbas reached a reconciliation agreement with Hamas and established a government of technocrats without Hamas members, so as not to affect the US transfer of funds to the Palestinian Authority.

Israel could have said at the time that since it wasn't a unity government with Hamas, a peace process could be pursued. But it didn't. Although the cabinet included ministers like Yair Lapid and Tzipi Livni, and although negotiations were being held at the time, the decision was to halt the talks if the conditions set down by the Mideast Quartet were not accepted.

Netanyahu, it should be noted, was much more aggressive at the time than he was last week. He defined the Palestinian Authority as a government of terror and launched an international campaign against it—an action which vastly differed from the statement he released before last week's cabinet meeting, which was very moderate.

But Bennet launched a PR campaign, a real media blitz, demanding that the cabinet adopt and reaffirm the 2014 decision, which states that the Israeli government would not negotiate with a Palestinian government supported by Hamas. Bennett, as always, managed to rein Netanyahu in, while the prime minister is still licking his wounds from the Temple Mount metal detector affair.

Bennett's demand to convene the Political-Security cabinet was accepted. It was an unusually long meeting—two days of discussions with senior defense establishment officials, which ended with a decision justifying the long meeting. On the face of things, the decision doesn't change anything, as there have been no negotiations for a long time and there are none in sight either. But it's dramatic, because it has implications on relations with the Americans, who have been trying to restart negotiations between Israel and the Palestinians.

Granted, special envoy Jason Greenblatt did issue an American statement backing the cabinet decision and noting that Hamas must disarm and recognize Israel. But when it comes to the Americans, who knows how long this policy will last.

In any event, the decision wasn't made easily. There were other proposals and different directions in the cabinet, from not responding at all to "we'll see what happens first and then decide."

There's no other way of defining what happened at the cabinet except as a clear victory for the Right. Bennett and Elkin got everything they wanted. The interesting thing is that the decision wasn't supported by an absolute majority of the ministers. If Netanyahu had wanted to adopt a more moderate policy, he could have. He didn't seem keen on the outcome. He seemed to have had different intentions. But during the discussion, his main concern was ensuring that Bennett wouldn't be perceived as more right-wing than him.

On the other hand, this decision is simply a copy of the one made in 2014, with a few other conditions added by Bennett, like a return of the missing soldiers and civilians from Gaza and a demand that Hamas cut ties with Iran.

In 2014, the cabinet included moderate ministers like Livni and Lapid. Netanyahu could have argued this time, rightfully, that he had no other choice but to agree to what his two partners had agreed to in the past. At the time, however, Abbas accepted the Quartet terms and said they must be adopted by any partner in his government. In this case, the cabinet wants the conditions to be accepted by Hamas, not by the Palestinian government. This is the first time Israel sets a precondition stating that it will not hold negotiations with a government supported by Hamas.

The decision adopted by the cabinet last Tuesday has three possible consequences: Abbas will either disarm Hamas or dissolve the reconciliation agreement, or neither. And if it's the third option, it means there's no point in the Americans sending the special envoy here anymore. The Israeli government is basically rejecting US President Donald Trump's ultimate deal. It will be very hard to change a government decision which reinforced a clear Israeli stance.

The cabinet decision reflects Netanyahu's attempts to atone for the decline in his status among the Right since the Temple Mount fiasco. He is repeatedly launching right-wing missiles into the air, knowing that none of them will hit their target—but that they'll all make noise. This includes, for example, his demand for a parliamentary commission of inquiry into the funding of left-wing NGOs, which was hindered by the Knesset's legal advisor last week. What we are seeing here is a right-wing noise machine, like the rubble crushers.

Netanyahu apparently believes that if he keeps launching right-wing initiatives—even if they have no chance of succeeding—he will be seen as right-wing.