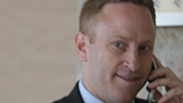 Ari Harow
Photo: Alex Kolomoisky
Netanyahu may face former confidant in police interrogation room
Former PMO chief Ari Harow, who signed a state witness agreement, provides police with information to cement suspicions the PM received illicit gifts from rich donors and bolster suspicions over his talks with Yedioth Ahronoth owner Arnon Mozes.
Prime Minister Benjamin Netanyahu may have to face his former chief of staff Ari Harow, who became a state witness against him, in a police interrogation room.

Harow, who signed a state witness agreement on Friday, has provided police with significant information pertaining to suspicions Netanyahu received illicit gifts from rich donors (the so-called Case 1000) and held talks with Yedioth Ahronoth owner Arnon Mozes on receiving more favorable coverage in return for promoting legislation against Yedioth's rival newspaper Israel Hayom (the so-called Case 2000).

Channel 2 News reported over the weekend that police is expected to recommend an indictment be filed against the prime minister in Case 2000 as well as Case 1000. According to the report, Harow told police he was sent by Netanyahu to speak to Mozes in an effort to reach a deal between the two.

Case 2000 came to be when police searched Harow's apartment as part of the criminal investigation against him and seized his old cellphone and laptop, where his recordings of Netanyahu and Mozes's conversations were found.

But so far, Case 2000 has been considered the more problematic one as it was lacking sufficient evidence. Harow's testimony, however, could point to intention by Netanyahu to take concrete steps following the talks with Mozes, contradicting the prime minister's claims so far that he never had any intentions to act on the matter.

In addition to giving police and the prosecution the evidence they need to establish Case 1000 and bolster Case 2000, Harow reportedly also provided evidence in the so-called Case 3000—a police investigation into suspected corruption surrounding the purchase of submarines and patrol ships for the Israeli Navy from German conglomerate ThyssenKrupp.

The majority of the details he provided have already been crossed referenced and are considered "key information" that could not only lead to an indictment against the prime minister, but also provide testimony on the modus operandi of the allegedly corrupt system that operated around him.

However, judicial officials said there is still a lot of work left to prepare Harow's testimony for trial. In addition, following the gathering of all testimonies, police will have to continue the investigative work, cross-reference evidence and possibly confront Harow with other suspects—Netanyahu chief among them.

Harow has been "marked" as a potential state witness in the investigations against Netanyahu after "ironclad evidence" had been gathered against him in another criminal case pertaining to a consulting firm he allegedly continued to own unlawfully while serving as a state employee.

The overwhelming evidence against Harow, as well as pressure put on him—including money confiscated from his accounts, putting him at a risk of losing his house—are what led the former PMO chief of staff to agree to cooperate with law enforcement authorities in return for a mitigated punishment.

As part of the deal Harow accepted, he will be convicted of breach of trust, serve a community service sentence lasting half a year—rather than prison sentence—and pay a fine of NIS 700,000.
Netanyahu 'has no intentions of resigning'
Netanyahu spent the weekend with his family at the Prime Minister's Residence in Jerusalem, holding consultations with his close confidants.
A close associate stressed on Saturday night the prime minister "has no intentions of resigning. He won't give anyone that pleasure. He's preparing for the battle of his life."
Other sources close to the prime minister said he was disappointed on a personal level by the fact Harow, who was so close to Netanyahu, would turn against him.
"The prime minister knows he's not corrupt and hasn't done anything, and that is why there can be nothing here," said one close confidant.
But others, who worked closely with the prime minister in the past, were not surprised.
"Netanyahu is a man who uses people and then discards them," said one such source. "You shouldn't be surprised one of the closest people to Netanyahu becomes a state witness. What's surprising is that it's Ari Harow, the most quiet and modest and least shady man. He's the last person anyone could imagine would be collecting documents and recordings and on judgment day—with the sword of Damocles hanging over his head—come out against Netanyahu."
A quiet and discreet person
Harow started working for Netanyahu in 2002 as an advisor on foreign relations. He was also put in charge of raising donations abroad.
Later, he worked as the director of the Friends of the Likud Movement organization in the US. During that time, he introduced Netanyahu to wealthy donors, and consequently become close to the Netanyahu family.
Harow was dubbed by police as the Netanyahu couple's "finance minister." He knew about and kept records of every money transfer, particularly when Netanyahu was in the opposition and Harow was entrusted with securing financing for the couple's trips, including accommodation at expensive hotels.
In July 2007, Harow returned to Israel and was once again made Netanyahu's foreign affairs advisor. In February 2008, Harow replaced Ayelet Shaked as Netanyahu's chief of staff.
Two years later, he left due to health reasons, with many of his close associates saying his "health suffered as a result of working with Bibi and Sara."
Harow has been described by those who worked with him as a discreet person.
"He blindly worshiped Bibi. He did everything Bibi, Sara or the kids asked of him," said one former colleague. "He didn't ask any questions, never thought why he was being asked to do personal things. But this is also what brought Netanyahu down, because on some level Bibi dismissed Harow. He didn't think Ari was someone who could harm him, which is why he allowed himself to speak more freely next to him."
Another former coworker described Harow as "a person with no political aspirations. Bibi trusted him completely. His strength was in his discreet nature, his silence. He wasn't a gossip."
Odelia Karmon, a former advisor of Netanyahu, also described Harow as a quiet person, "gentle, nice, shy. Not one of the guys... he was reliable and didn't get into power struggles."
She said Netanyahu "would send him on fundraising missions. He never complained and always delivered the goods."
Karmon added that Harow "knew at any given moment where the prime minister was and what he was doing."
Eli Senyor, Tova Tzimuki and Itamar Eichner contributed to this report.