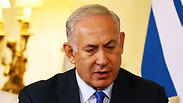 Netanyahu expresses hope for US peace push in Middle East
PM participates in London Q&A, saying he has hope for peace with Palestinian following President Trump's 'fresh approach' to negotiations; on Iran nuclear deal, Netanyahu says he wishes to correct its 'main flaws', states greatest danger lies in Iran remaining in deal and reaching nuclear bomb anyway.
Prime Minister Benjamin Netanyahu participated in a Q&A session at the London-based Chatham House think-tank on Friday, where he professed his hope that a US peace initiative would work and praised President Donald Trump for taking a fresh approach to bringing the Israelis and Palestinians back to negotiations.

Asked during a visit to London to commemorate the 1917 British declaration of support for a Jewish homeland if he felt now was the moment for peace in the region, noting Trump's involvement in peace efforts, he said: "Hope so."

"What's being discussed now is an American initiative. Obviously we make our interests and our concerns known to Mr. Trump. He's coming with a sort of refreshing 'can-do' thing... they're trying to think out of the box," Netanyahu said at the Chatham House Q&A.

"The reason I draw hope from the moment is because of the larger shift in Arab-Israeli relations with the countries of the region. I cannot emphasize how dramatic that is," he said.

Netanyahu also maintained his stance against the current Iran nuclear deal, going on to detail the process of attaining a nuclear weapon: a launch system, a missile to contain the nuclear material, and the enriched uranium that fill it.

He further explained that producing the enriched uranium is the most difficult part in the process, and that so far, the only thing preventing Iran from doing so have been the international sanctions placed on it, "which I had something to do with."

Nevertheless, Netanyahu stressed, as he did on Thursday, when he met with British Prime Minister Theresa May, that he would not work to cancel the nuclear deal signed between Iran and world powers, but rather seek to improve and fix it.

"The goal that I have in mind is not keeping or eliminating the deal; it's improving the deal and correcting its main flaws," Netanyahu said during the two leaders' meeting at 10 Downing Street. "And I think those who want to keep the deal should cooperate in correcting the deal.

Netanyahu also attended an economic event at the London Stock Exchange, following which he opened trade at the exchange. He later met with the heads of Britain's economic corporations.

Netanyahu will conclude his UK trip with a meeting with Britain's chief rabbi and heads of the British Jewish community on Sunday morning.

According to the prime minister, his meeting with May saw "us becoming closer in attempting to change things in the agreement, especially as it relates to oversight on missiles and the sanctions article. We're in the midst of a war and I've recently spoken with (German Chancellor Angela) Merkel, (Russian President Vladimir) Putin and May and will soon be speaking with (French President Emmanuel) Macron."

Netanyahu stressed to May the Iranians are interested in limiting oversight, especially on military bases in which they can push nuclear activities forward and manufacture ballistic missiles, which may then be fitted with nuclear warheads.

"Ballistic missiles are also not included in the agreement's purview and we aim to convince the six power to change that. We say Iran should be prevented from achieving nuclear bomb capabilities while also hindering its ability to launch it using ballistic missiles," Netanyahu said.

Netanyahu has been a steadfast supporter of canceling the Iranian nuclear deal altogether, but the British prime minister is a staunch supporter of it, a position which she expressed after President Trump's "Iran speech."

According to Netanyahu, big changes are afoot in the Middle East. "Since many Arab countries now view Israel not as an enemy but as essential ally in fighting radical Islam. The threat we all perceive is Iran's rise, a country determined to not only accede to regional hegemony but to also develop nuclear weapons," he said.

According to sources close to the Israeli prime minister's party, his meeting with May saw a shift towards amending the agreement. The prime minister cautioned that should the international community stand idly by and do nothing, Iran would reach the ability to develop multiple nuclear bombs within a few years' time.

Netanyahu added now things were up to President Trump. "The greater danger lies in Iran following the agreement but still reaching a nuclear bomb," he cautioned.