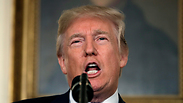 Trump strikes blow against Iran nuclear deal in major US policy shift
President Donald Trump accuses Iran of violating the spirit of the landmark 2015 nuclear deal, blaming it for a litany of malign behavior and hitting its main military wing with anti-terrorism sanctions. But Trump, breaking with a campaign pledge to rip up the agreement, said he was not yet ready to pull the US out or re-impose nuclear sanctions.
US President Donald Trump struck a blow against the 2015 Iran nuclear agreement on Friday in defiance of other world powers, choosing not to certify that Tehran is complying with the deal and warning he might ultimately terminate it.
Trump announced the major shift in US policy in a speech in which he detailed a more aggressive approach to Iran over its nuclear and ballistic missile programs and its support for extremist groups in the Middle East.
He accused Iran of "not living up to the spirit" of the nuclear agreement and said his goal is to ensure Tehran never obtains a nuclear weapon.
"We will not continue down a path whose predictable conclusion is more violence more terror and the very real threat of Iran's nuclear breakout," Trump said.
Trump's hardline remarks drew praise from Israel, Iran's arch-foe, but was criticized by European allies.
The move by Trump was part of his "America First" approach to international agreements which has led him to withdraw the United States from the Paris climate accord and the Trans-Pacific Partnership trade talks.
Trump outlines new Iran policies (צילום: רויטרס)
His Iran strategy angered Tehran and put Washington at odds with other signatories of the accord such as Britain, France, Germany, Russia, China and the European Union, some of which have benefited economically on renewed trade with Iran.
Responding to Trump, Iranian President Hassan Rouhani said on Friday on live television that Tehran was committed to the deal and accused Trump of making baseless accusations.
European allies have warned of a split with the United States over the nuclear agreement and say that putting it in limbo as Trump has done undermines US credibility abroad, especially as international inspectors say Iran is in compliance with the accord.
US Democrats expressed skepticism at Trump's decision. Senator Ben Cardin said: "At a moment when the United States and its allies face a nuclear crisis with North Korea, the President has manufactured a new crisis that will isolate us from our allies and partners."
Netanyahu congratulates Trump on his speech (צילום: לע''מ)
Congress decides
While Trump did not pull the United States out of the agreement, aimed at preventing Iran from developing a nuclear bomb, he gave the US Congress 60 days to decide whether to reimpose economic sanctions on Tehran that were lifted under the pact.
If Congress reimposes the sanctions, the United States would in effect be in violation of the terms of the nuclear deal and it would likely fall apart. If lawmakers do nothing, the deal remains in place.
Congress is more likely to take up legislation proposed by two Republican Senators that would set new restrictions on Iran, including reimposing US nuclear sanctions if Tehran were deemed to be within one year of developing a nuclear weapon.
Trump directed US intelligence agencies to probe whether Iran might be working with North Korea on its weapons programs.
The president, who took office in January, had reluctantly certified the agreement twice before but has repeatedly blasted it as "the worst deal ever." It was negotiated under his predecessor, former President Barack Obama.
Trump warned that if "we are not able to reach a solution working with Congress and our allies, then the agreement will be terminated."
"We'll see what happens over the next short period of time and I can do that instantaneously," he told reporters when asked why he did not choose to scrap the deal now.
Trump also gave the US Treasury Department authority to impose economic sanctions against people in the Islamic Revolutionary Guards Corps or entities owned by it in response to what Washington calls its efforts to destabilize and undermine Iran's opponents in the Middle East.
US Secretary of State Rex Tillerson said that rather than reimposing sanctions, Trump wants the Republican-controlled Congress to fix what he considers flaws in the agreement.
Lawmakers would do this by amending the Iran Nuclear Agreement Review Act law to strengthen nuclear inspections, cover Iran's ballistic missile program and eliminate the deal's "sunset clause" under which some of the restrictions on Iran's nuclear program expire over time.