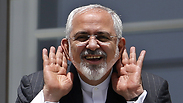 Negotiators officially announced a historical agreement over Iran's nuclear program on Tuesday afternoon, sparking reactions of confidence from US President Barack Obama and dire warnings from Israeli officials.

Prime Minister Benjamin Netanyahu is not bound by the international nuclear agreement with Iran, and that it reserves the right to defend itself.

Netanyahu says the world is now a "much more dangerous place" and criticized Tuesday's agreement as a "stunning historic mistake."

Netanyahu asserted that the deal gives Iran every incentive not to change. By not dismantling the nuclear program, the deal will give "an unrepentant" and "far richer" Iranian regime more regional power, the prime minister said.

Netanyahu gives statement on Iran deal (צילום: אלי מנדלבאום)

Speaking in English to reporters in Jerusalem, he said that by removing sanctions, the deal will "reward the terrorist regime in Iran" with hundreds of billions of dollars to support a worldwide terrorism network.

"This cash bonanza will fuel Iran's terrorism worldwide, its aggression in the region and its efforts to destroy Israel, which are ongoing," the prime minister noted.

He also said it "repeats the mistakes" of an earlier international agreement with North Korea, in which international inspections failed to prevent the country from developing a nuclear weapons capability.

"There too we were assured that inspections and verifications would prevent a rogue regime from developing nuclear weapons. And we all know how that ended," Netanyahu said.

Obama addressed the nation just over an hour after the official announcement saying that he would veto any legislation aimed at blocking the deal in Congress, and continued to say that a nuclear armed Iran was far more destabilizing than a non-nuclear Iran.

Obama also stated that the deal prevented the spread of nuclear weapons in the most volatile region in the world, the Middle East.

Obama talks about nuclear deal

Yisrael Beytenu Chairman and former foreign minister Avigdor Lieberman also reacted to the confirmation of a deal, calling it a danger for the future. "History will remember the Iran dael just like the Munich Agreement (with Nazi Germany) and the agreement with North Korea," said Lieberman.

In a speech to the citizens of Iran President Hassan Rouhani said, "We didn't ask for charity. We asked for fair, just, and win-win negotiations."

Rouhani then added that the powers' sanctions regime never worked on Iran.

The Iranian president also had a dig at Israel, saying: "Today the people of Gaza, Lebanon, Qods (Jerusalem) and West Bank are also happy because the endeavors of the Zionist regime were defeated."

"Neighboring countries! Do not be deceived by the Zionist regime," he went on.

The Iranian state news agency reported that under the current deal, all Iranian nuclear facilities will remain up and running and research on key centrifuges will continue.

The news agency also said that bans on Iran purchasing certain dual-use machinery and technology will also end. EU and US economic sanctions are also set to be lifted with the implementation of the agreement according to report.

According to diplomatic sources, the deal includes a compromise between Washington and Tehran that would allow UN inspectors to press for visits to Iranian military sites as part of their monitoring duties.

But access at will to any site would not necessarily be granted and even if so, could be delayed, a condition that critics of the deal are sure to seize on as possibly giving Tehran time to cover any sign of non-compliance with its commitments.

Under the deal, the source said Tehran would have the right to challenge the UN request and an arbitration board composed of Iran and the six world powers that negotiated with it would have to decide on the issue.

Still, such an arrangement is a notable departure from assertions by top Iranian officials that their country would never allow the UN's International Atomic Energy Agency into such sites. Iran has argued that such visits by the IAEA would be a cover for spying on its military secrets.

Iranian opposition to the arms embargo also eased during negotiations and the embargo is set to continue for five years. The deal also stipulates that sanctions would be reimposed on Iran within 65 days in case it broke the deal.

In addition to the five-year UN weapons embargo, missile sanctions will stay in place for eight years.

As a midnight Monday target for a deal approached in Vienna, diplomats said the nuts and bolts of the written nuclear accord had been settled days ago.