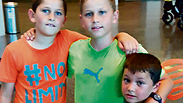 Itay, Nadan and Yuval Mizrahi, sons of Baruch Mizrahi, who died in terror attack
Courtesy
Children of settlers killed by terror attacks ask Netanyahu for better protection
After losing their parents in terror attacks, children from grief-stricken settler families write PM in effort to get their remaining parents, currently camped out in front of the Prime Minister's Residence, protesting for better security measures, to come home; 'They won't come back until you move things forward,' children tell PM, asking that he approve better security in West Bank.
The children of families affected by deadly terror attacks in the West Bank have joined their parents in fighting for better security along the roads and settlements in which they live, by personally writing Prime Minister Benjamin Netanyahu to approve more security measures in the region.

Among others, the letter was signed by Yuval, Itay and Nadav Mizrahi, who lost their father, Baruch Mizrahi, in a shooting attack in 2014; Meidad, Hanan and Mazal Hasano, whose father Avraham Hasano was murdered in a vehicular attack in 2015; and Yuval Abutbul, the daughter of Hadas Abutbul, who was murdered in a shooting attack in 2001.

This is the second week in which settlers are protesting outside the Prime Minister's Residence for better security measures in the West Bank. Their children voiced their support by telling Netanyahu, "We stand with our parents' courageous decision to fight so other families in Israel will not have to experience the pain, loss and destruction we have experienced and continue to experience, each and every day.

"Our parents won't come home until you don't move things forward. Until a budget is not set to fund roads, lighting, proper cellular reception and security cameras for half a million Israeli citizens, living in the West Bank, they are determined to stay on your doorstep.

"These are basic demands entitled to every Israeli citizen," continued the children's letter.

"You still haven't met with our parents or come to talk with them. You're our prime minister, and we love and appreciate you very much! We're asking you, Mr. Prime Minister—it's in your hands! Bring our parents home!"

On Monday, settlers who lost loved ones in terror attacks in the West Bank arrived at the Likud Party meeting to urge Netanyahu to transfer funds to improve the infrastructure in the area in an effort to prevent future deadly terror attacks.

"My name is Adva Biton, mother of Adele Biton. I buried my daughter at age four and eight months. What are you waiting for, the next disaster?" the distraught mother told Netanyahu.

Adele Biton was critically hurt in March 2013 when a truck driver unexpectedly hit the brakes after his vehicle was struck by stones hurled by Palestinians. The car behind him, carrying Adele, her two sisters and their mother, lost control and collided with the truck. The two other sisters, Avigail and Naama sustained moderate injuries. Adele passed away two years later as a result of complications from her injury.

"We're dealing with the pain and loss every day," Biton told Netanyahu. "Every day, we're driving on roads across Judea and Samaria without proper lighting, without cell reception. (Government) representatives come to console us. Everyone is showing empathy. You're all being sincere. But we're tired of this. We want actual decisions, budgets allocated. The citizens in Judea and Samaria deserve a decision."

Hadas Mizrahi, whose husband Baruch Mizrahi was murdered in a shooting attack near Hebron on Seder night three years ago, shared her story with Netanyahu and the other Likud MKs.

"I waited out there for 20 minutes because the (cell) network went down. Twenty minutes with no lighting," she said. "I've been going through this hell for three and a half years, we're being forgotten."