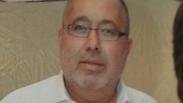 The Military Advocate General has decided to accept an appeal from the family of Avraham Hasano, who was run over outside Hebron in October, and indict the Palestinian driver who killed him with murder, after initially indicting him with manslaughter.

In certain cases, families of victims have the right to appeal this kind of decision and request a secondary examination of the evidence material.

"After an additional thorough examination of the evidence and legal rulings, the Military Advocate General decided to accept the appeal and rectify the indictment, so Sahban Titi will be charged with murder," a statement by the Military Advocate General said.

Avraham Hasano was run over at al-Fawar junction in the southern Mt. Hebron area. Hasano was on his way to Kiryat Arba when several Palestinians began to throw stones at his car. He stopped the car and got out, and was hit by a truck.

The Palestinian driver, Sahban Titi, drove off, but later turned himself in to the Palestinian security forces, and was subsequently released. He was then detained by Israel and taken for further investigation.

Titi initially claimed he hit Hasano by accident, but the Hasano family was later recognized by the Defense Ministry as "terror victims."




"Avraham's belief and the belief that we continue to have is to fight for justice until the very end," Avraham's widow Ruth said. "We believe that God is just and that the truth will come to light. This is how it's been since the attack, when we thought at first that this wasn't nationalistically motivated. We thank God that he enabled the IDF representatives to see the truth."