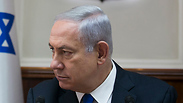 PM Netanyahu
Photo: Olivier Fitoussi
PM: Despite Syria ceasefire, Israel will act 'according to our needs'
Speaking at Likud faction meeting, Netanyahu says Israel will not be restricted by the current agreement signed by US, Russia and Jordan and will 'continue to act in accordance with its understanding and our security needs'; Israeli security officials dissatisfied with short distances Iranian forces and Hezbollah will be permitted to remain from northern border.
Prime MInister Benjamin Netanyahu said Monday that Israel would operate in Syria how and when it sees fit, regardless of the ceasefire agreement signed Saturday between the US, Russia and Jordan that Jerusalem complained fell significantly short of its security demands.

"I clarified for our friends, first and foremost in Washington and also our friends in Moscow, that Israel will act in Syria, including in southern Syria, in accordance with its understanding and our security needs," the prime minister said during a Likud party meeting.

"That is what is happening and that is what will continue to happen," he added.

The agreement, which included a clause removing Iranian forces, Hezbollah and Shi'ite militias in Syria from its border with Israel on the Golan Heights, raised eyebrows among Israeli security officials after learning that they would be permitted to remain present a mere 5-7km from the border.

Depending on current rebel positions on the Syrian Golan Heights, an official said, speaking on condition of anonymity due, the forces would have to deploy up to 30km from the border.

"We are concerned for Israel's security and you all know this very well. We are doing this with the right combination of firmness and responsibility," Netanyahu continued.

"We are protecting our borders, we are protecting our country and we will continue to do so."

US President Donald Trump and Russian President Vladimir Putin on Saturday affirmed joint efforts to stabilize Syria as its civil war wanes with the expansion of a July 7 truce in the southwestern triangle bordering Israel and Jordan.

A US State Department official said Russia had agreed "to work with the Syrian regime to remove Iranian-backed forces a defined distance" from the Golan Heights frontier with Israel, which captured the plateau in the 1967 Six-Day War.

Israel has been lobbying both the US and Russia to deny Iran, Lebanon's Hezbollah and other Shi'ite militias any permanent bases in Syria, and to distance them from the Golan, as they gain ground while helping Damascus beat back Sunni-led rebels.

On Sunday, Regional Cooperation Minister and Netanyahu confidant, Tzachi Hanegbi (Likud), however, sounded circumspect about the deal, telling reporters that it "does not meet Israel's unequivocal demand the there will not be developments that bring the forces of Hezbollah or Iran to the Israel-Syria border in the north."

Reuters contributed to this article.