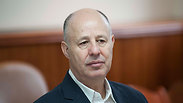 Tzachi Hanegbi
Photo: Yoav Dudkevitch
Israel signals it will retain right to strike at Syria, despite US-Russia-brokered truce
Israeli min. states Israel is not bound by upcoming ceasefire deal reached in Syria by US, Russia and Jordan, indicating it will keep up military strikes across Syrian border as necessary, despite Russian commitment to remove Iranian forces, Hezbollah and Shi'ite militias in Syria from its border with Israel on the Golan Heights.
The US, Russia and Jordan signed on an agreement on Saturday that includes a Russian commitment to remove Iranian forces, Hezbollah and Shi'ite militias in Syria from its border with Israel on the Golan Heights. Despite this, Israeli officials are wary of the agreement, and stress that Israel will retain its right to strike at Syria if necessary.

US President Donald Trump and Russian President Vladimir Putin reaffirmed on Saturday their joint efforts to stabilize Syria as its civil war wanes, including with the expansion of a July 7 truce in the southwestern triangle bordering Israel and Jordan.

A US State Department official said Russia had agreed "to work with the Syrian regime to remove Iranian-backed forces a defined distance" from the Golan Heights frontier with Israel, which captured the plateau in the 1967 Six-Day War.


The move, according to one Israeli official briefed on the arrangement, is meant to keep rival factions inside Syria, such as Iranian forces, Hezbollah and Shi'ite militias, away from each other, and it would also effectively keep Iranian-linked forces at various distances from the Israeli Golan.

Those distances would range from as little as 5-7 kms and up to around 30 kms, depending on current rebel positions on the Syrian Golan Heights, the official said, speaking on condition of anonymity due to the sensitivity of the issue.

Moscow did not immediately provide details on the deal.

Israel has been lobbying both big powers to deny Iran, Lebanon's Hezbollah and other Shi'ite militias any permanent bases in Syria, and to keep them away from the Golan, as they gain ground while helping Damascus beat back Sunni-led rebels.

In televised remarks opening Israel's weekly cabinet meeting on Sunday, Prime Minister Benjamin Netanyahu did not speak about the new US-Russian arrangement for Syria.

Regional Cooperation Minister and Netanyahu confidant, Tzachi Hanegbi (Likud), however, sounded circumspect about the deal, telling reporters that it "does not meet Israel's unequivocal demand the there will not be developments that bring the forces of Hezbollah or Iran to the Israel-Syria border in the north".
'Red lines'
"There's reflection here of the understanding that Israel has set red lines, and will stand firm on this," Hanegbi added.

That was an allusion to Israeli military strikes in Syria, carried out against suspected Hezbollah or Iranian arms depots or in retaliation for attacks from the Syrian-held Golan.

In the latest incident, the Israeli military said it shot down a spy drone on Saturday as it overflew the Golan. Israeli Defense Minister Avigdor Lieberman blamed the drone on the Syrian government. Damascus did not immediately respond.

Repeating Israel's warnings to Iran and Hezbollah, Lieberman said: "We will not allow the Shi'ite axis to establish Syria as its forefront base."

Russia, which has a long-term military garrison in Syria, has said it wants foreign forces to quit the country eventually.

The US State Department official, who briefed reporters on condition of anonymity on Saturday, said that goal could be served by Russia's pledge to remove Iranian-linked fighters from the truce zone in southwestern Syria.

"If this works, this is an auspicious signal, would be an auspicious signal, that our policy objective—the objective that I think so many of us share, of getting these guys out of Syria ultimately—that there's a path in that direction," the official said.