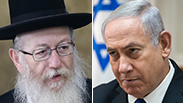 Netanyahu and Litzman
Photo: Alex Kolomoisky, Olivier Fitoussi
Litzman threatens to quit government over Shabbat train work
In another ultimatum to Netanyahu, Health Minister Yaakov Litzman threatens to quit the government on Sunday if train maintenance work is permitted to proceed on southern railway lines; 'Turning Shabbat into a renovation day is against the status quo'; Labor minister: 'No Jews will do the work.'
Health Minister Yaakov Litzman threatened Prime Minister Benjamin Netanyahu Friday that he would quit the government on Sunday if infrastructural work on trains in the Dimona area of Be'er Sheva this Shabbat is permitted to proceed.

"The continued turning of Shabbat into a national renovation day for Israel Railways is contrary to the status quo, and constitutes a serious blow to Israeli traditions and the value of sanctifying Shabbat," wrote the leader of the United Torah Judaism (UTJ) party.

The political storm began to brew on Wednesday when Litzman received a regular letter from Israel Railways informing him that work infrastructural work would go ahead this coming Shabbat.

During a discussion with Netanyahu's chief of staff, Litzman stated that the plan was unacceptable, particularly in light of repeated promises in recent weeks that work on Shabbat on the railways would be terminated all together.

The same day, Litman announced that he would not participate in any votes held by the Ministerial Committee for Legislation.

Attempting to placate Litzman, Netanyahu's office that the so-called supermarket bill, sponsored by UTJ MK Moshe Gafni, would be put to the vote, which would significantly curtail the operations of commerce on Shabbat.

On Friday morning, Litzman consulted with a Hassidic leader, who told him that the two issues Netanyahu was attempting to link were not related.

Shortly after, Litzman called Netanyahu to inform him that he had decided to exit the coalition if Netanyahu did not intervene and put the breaks on the plan.

In another attempt to mollify Litzman's stance, Labor and Welfare Minister Haim Katz, who is authorized to issue work permits on Shabbat, assured him that no Jewish workers would be carrying out the required maintenance work. By Friday afternoon, Litzman's office had not issued a response.

Not for the first time, work planned to be carried out on the trains on Shabbat has threatened to derail Netanyahu's coalition, with ultra-Orthodox parties sporadically holding its stability hostage to the prime minister's compliance with its demands.

At the end of last year, the ultra-Orthodox parties gave a similar ultimatum that threatened to disband the government over train maintenance work that was scheduled to take place in Tel Aviv on Shabbat, presaging a series of fiery government discussions on the matter.

In September 2016, Katz decided to resume infrastructure and maintenance work at Israel Railways on the holy day.

Following the political crisis that ensued, a special committee was established under his direction, which meets every Thursday with Haredi factions to consider requests by the railway company for work on Shabbat. The committee members then decide whether the merits justify the requests' implementation.