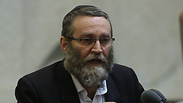 MK Moshe Gafni
Photo: Gil Yohanan
MK Gafni to defy coalition over Shabbat commerce
United Torah Judaism MK announces he will not toe coalition lines until bill banning all commerce on Shabbat is promoted through ministerial legislative committee; legislation seeks to go around HCJ ruling allowing Tel Aviv supermarkets to remain open and instead impose closure of all Israeli businesses on Shabbat.
United Torah Judaism MK Moshe Gafni announced Wednesday he will no longer be voting along coalition lines in the Knesset until such time as a bill put forwarded by Haredi parties banning commerce on Shabbat was promoted.

Gafni, wishing to go around the High Court of Justice's ruling on Tel Aviv supermarkets that allows them to remain open on Saturdays, notified heads of the coalition parties as well as Coalition Chairman MK David Bitan (Likud) that until further notice he will no longer be present at Knesset plenum votes.

Shas and UTJ demand the Ministerial Committee for Legislation approve Gafni's bill. Despite the fact that the government's support of his bill is anchored by coalition agreements, the item was left out of the committee's agenda in recent meetings.

The government's inaction prompted Gafni's statement, the first sign of Haredi rebellion within the coalition.

The Haredi parties' bill states all businesses will be required to close on Shabbat, the Jewish day of rest, without local authorities having a say in the matter, including retroactive cancelation of past decisions, such as a bylaw passed by the Tel Aviv municipality.

Haredi MKs are also simultaneously working with Minister of Labor and Welfare Haim Katz to enforce the country's Hours of Work and Rest Law to strong-arm businesses into shuttering on weekends regardless of municipal bylaws.

The struggle to change enforcement policies also took a legal turn, with a pending petition on the matter made to the High Court by the Shabbat Shivyon coalition of business owners and activists.