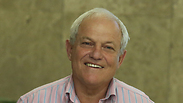 Minister Haim Katz
Photo: Amit Shabi
Labor and Welfare Minister Haim Katz has decided to resume infrastructure and maintenance work at Israel Railways on Shabbat, despite the political crisis it sparked over the past two weeks.

Katz, who is in charge of issuing Shabbat work permits as part of his role as the labor minister, said he intends to allow the work that is necessary for the weekend and examine every week the planned work to determine what must be done on Shabbat and what can be postpone to a weekday.

In an interview with Ynet's sister publication Yedioth Ahronoth, to be published in full on Friday, Katz declared: "Every case will be examined in its own right."

According to Katz, "Work concerning safety that has to be done on Shabbat—will be done. Work that there is no other choice but to do it on Shabbat—will be done. At the same time, the sanctity of Shabbat will also be kept. The difference is that with me, things will be done quietly and without shouting. Where the work is not necessary—it won't be done (on Shabbat)."

"For years now that there is work on Shabbat, and work on Shabbat will continue in the future. This was a lot of noise for no real reason," he added.

Katz went on to say that even when Shas leader Aryeh Deri served as the economy minister and the labor portfolio was still under that ministry's responsibility, infrastructure and maintenance work for the train was done on Shabbat.

He specified that "maintenance work necessary for the trains to operate properly and in the best, safest way will be done on Shabbat. (But) I instructed the Israel Railways management to allow any worker, religious or secular, not to work on Shabbat if they don't want to."




Katz is confident his decision to renew the Shabbat train work will be accepted without resulting in another crisis. He also said he does not plan on involving the prime minister in his decisions regarding work on Shabbat.

"When he spoke to me, the prime minister presented me with all of the solutions and let me decide," he said. "I don't plan on reporting to him, updating him or sharing these decisions with him even if they go against his own wishes. I'm the minister in charge of this issue, and I'm telling you the decisions will be made professionally and according to the law."

With that in mind, Katz also stressed he planned on reaching understandings with the ultra-Orthodox public. "I have no interest in defying them, angering them, or doing things just to spite them. I want the country to keep running as it should be run. I'll find the way to please everyone."

While the heads of the ultra-Orthodox parties informed Katz on Wednesday that they were against resuming train work on Shabbat, Shas leader Deri told Ynet on Thursday that "at the end of the day, the seculars are the ones who will decide what kind of Shabbat they want. We won't tell anyone what to do. We live in a secular state. Jewish, perhaps, but secular."

Deri stressed his party "had no interest in creating crises. We realize we're not living in a Halacha state, that the days of the Messiah are not yet upon us and that we've yet to reach the ideal situation in which the entire people of Israel know the significance of Shabbat."

He noted he "did not approach or pressure Minister Katz on the Shabbat work. We have to do what we must, using non-Jewish workers, and I'm confident it will be done."

Moran Azulay contributed to this report.