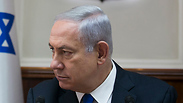 PM Netanyahu
Photo: Olivier Fitoussi
Netanyahu grilled for four hours in bribery probe
In what is expected to be the final round of questioning of the Israeli premier at his official residence in Jerusalem, investigators attempt to ascertain precise details of how he allegedly promoted Arnon Milchan's business interests in exchange for lavish gifts furnished on the Netanyahu family.
Prime Minister Benjamin Netanyahu was questioned for four hours on Sunday evening, during which he provided his version of events regarding an investigation involving his alleged acceptance of extravagant gifts from Israeli businessman Arnon Milchan in exchange for promoting his business interests.

Beginning at 5pm, it was the sixth time the Israeli premier was investigated at his official residence in the affair, also known as Case 1000.

At the conclusion of the investigation, the Israel Police issued a statement, but details were admittedly scant.

"We confirm that the prime minister was investigated today for a number of hours at his residence in Jerusalem, as part of the investigation being conducted by Lahav 443," the statement read.

"The investigation is being conducted with the accompaniment of, and under the supervision of, the state attorney with the approval of the attorney general. Beyond the above, and due to the nature of things, we cannot elaborate on more details of the investigation."

While Netanyahu is suspected of accepting gifts from a numerous tycoons, investigators mainly focused on ascertaining the nature of the assistance he allegedly provided to Arnon Milchan in return for expensive cigars and champagne he lavished on the Netanyahu family.

During the last round of questioning, Netanyahu presented his investigators with a series of pictures of him and his family with Milchan in a bid to prove that he and Milchan were merely good friends, and that any gifts given were done so out of friendship rather than business pursuits.

With investigators signalling that they hope to wrap up the protracted affair by mid-December, Sunday's grilling is expected to be the last for Netanyahu.

Officials privy to the details of the investigation are divided, however, on how to proceed. According to reports, a general consensus has been formed that arraigning Netanyahu for bribery, or at least for receiving illicit benefits, is justified.

Nevertheless, some of the investigative staff insist that Netanyahu and Milchan will have to be indicted together, citing difficulties in explaining to the courts why only the Hollywood magnate has been let off the hook. "In the end it will look like a witch hunt against him," one official said.

Some investigators have also echoed Netanyahu's claims in justifying a decision to give Milchan a pass and refrain from recommending an indictment against him, acknowledging his significant contributions to the state over the years.